Become the One
By Adam Fawcett. Lab Kelpie. Director Lyall Brooks. Riverside Theatre, Parramatta. 19-21 May, 2022
Tom is an AFL legend. Fit, muscular, toned, he embodies masculinity. He comes from Brighton, a wealthy background. Noah is a cleaner, sent by the agency for Tom's approval. He is hesitant, shy, tentative, certainly a bit doubtful about taking this job. They are opposites it seems, so why does it feel so tense?
Under the deft direction of Lyall Brooks, Chris Asimos (Tom) and Mason Gasowski (Noah) face each other in this taut opening scene of Adam Fawcett's carefully crafted play about whether to "come out" … and when …especially if you're a footballer.
Fawcett draws his characters clearly and sensitively, their relationship developed in a series of skilfully written scenes. Brooks directs those scenes perceptively, gradually accenting the tension that builds as the relationship strengthens. Designer Tom Backhaus tightens that tension with an incredible soundtrack that captures the mood of each scene and intensifies the effect into the scene that follows. It is a clever device, in the hands of an accomplished, creative musician.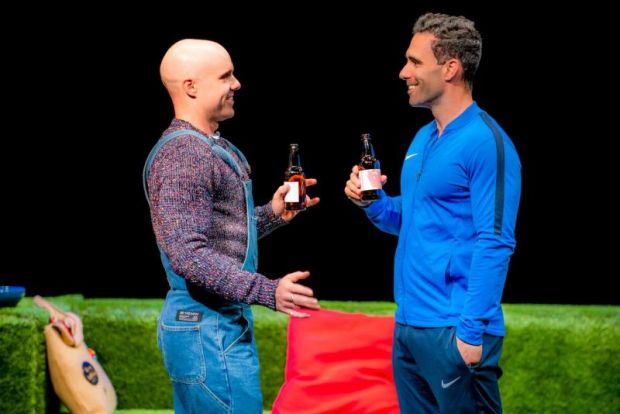 Clever too, are the actors that inhabit the characters that Fawcett created. Both walk gently in the shoes of their character, sensitive to the shifts in the relationship. Their timing is impeccable, especially in poignant moments where expressive pauses emphasise apprehensions that remain unspoken.
Asimos finds both sides of Tom's persona. The macho sportsman, one of 'the boys', fitting the title 'the general' shouted by his fans, and the 'real' Tom who has hidden his sexuality for years. But though he gradually opens up to Noah, he does so in secret, still not strong enough to face public exposure and the fear of vilification. His performance is contained and compelling.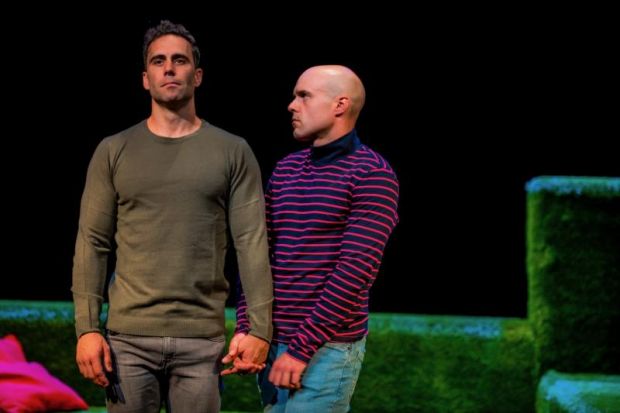 Gasowski is equally compelling as Noah, becoming increasingly more confident in the relationship, yet wary of the deceit behind the secrecy. Gasowksi is a perceptive performer who uses silence, expression and gesture – shoulders drooping, hands wringing slightly, eyes downcast – as effectively as words.
Together, they find all the underlying implications in Fawcett's script. With Brooks' direction they physicalise the characters through tough scenes and many scene and costume changes, never losing their character, even as they clear props or move across a darkened set with Backhaus' ingenious music hovering in the air around them as impelling as the dilemma that is dogs their relationship.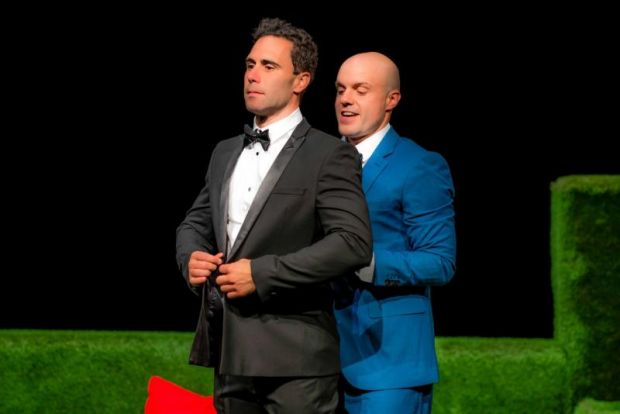 Adam Fawcett says he doesn't know the answer to the question that dilemma raises – but his play makes the choices very clear. And Asimos and Gasowski give them depth and believability. This is a fine production. It has been carefully and caringly directed and has so much to say. What a shame it is playing for such a short run!
Carol Wimmer
Photographer: Jodie Hutchinson