Begotten: the radio play
Written and performed by Bianca Butler Reynolds. Minola Theatre. Launched online 16 May, 2020
Imagine being able to go back in time and have a conversation with your grandmother or your great-grandmother when they were young and full of ambitions for their future. What would it be like to hear an uncensored version of their life choices and the reasons behind them? It could be confronting, sentimental, provocative, worrying – in the case of Begotten by Bianca Butler Reynolds, it is all of the above. The writer has woven together one family's passions, secrets and lies into a fascinating tapestry, brought to life with music and audio effects as a radio play.
Deftly directed by Kat Dekker with superb sound design and editing by Siobhan Finniss, the piece tells five clearly delineated stories: Alice, Eileen and Clea (in Australia in 2019, 1998 and 1970); Hazel (England, 1941); and Laoise (Ireland, 1919). From the opening image of a zoetrope animation as Alice day-dreams on her bus, the Begotten carousel picks you up and takes you for an intriguing ride to discover more about a bloodline of stories, interwoven monologues that go back in time to Laoise, the original ancestor in Ireland, setting the foundation stone for the generations of women to follow – each with their own attempts to articulate their desires, to connect and to love.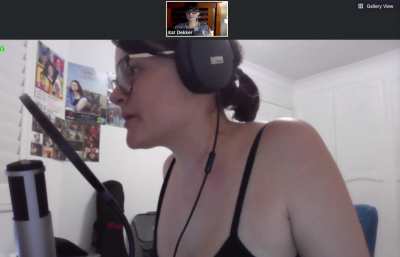 It must be a challenge to perform your own work, but Butler Reynolds proves she has the performance skills to cope: changing tempo from the more pacey, modern Alice to adopting a slower and more considered lilt for Laoise. The music motifs and sound effects work well to isolate each character in her time zone. Although, sometimes the extra sounds are not needed when the humour and poetry of the language ensure that listeners are always entertained. Apart from one long dream sequence that could be trimmed, there are many succinct visual images that sing, and strong and memorable lines: Alice – the first voice we hear – says, self-deprecatingly, that she "breaks down like it's a hobby"; Hazel perkily describes her favourite green skirt and a war-time dance-hall meeting, before concluding, soberly, that she wants to "ride the train somewhere new"; Laoise confides dourly "My country has just gained its independence and I've given up mine". The final, disturbing story is set in Ireland, immediately evoked by the lilting folk song 'She Moved Through the Fair' – it's a fitting piece to leave us dancing with the ghosts of the five women, their hopes and dreams, the compromises they have made and lived with. It could conjure thoughts of your own family history and question how much we can really know about the deeply personal decisions endured by our own relatives in the past.
The Minola team has created a strong and evocative piece that could also serve as a basis for writing and performance exercises. Alice talks about "diving for pearls in an ocean" – and that's what this process feels like – a beautiful technique in retrieving gem-like moments from lives lived to explain the thread that connects successive generations.
Listen to Begotten on demand on the Minola Theatre website
Read more about the creative process of translating the stage story to audio drama: Staying Creative in Quarantine
Beth Keehn