Belong
ID by Stephen Page & About by Elma Kris. Bangarra Dance Theatre. Drama Theatre, Sydney Opera House, July 20 – Aug 20; Heath Ledger Theatre, Perth, Aug 25 – 28; Canberra Theatre Centre, Sep 2 – 3; IMB Theatre, IPAC, Sep 8 – 10; Playhouse, the Arts Centre, Melbourne, Sep 15 – 24.
What is aboriginality? It's a big question and one that Bangarra's Belong tries to address.
In an environment when the national debate has touched on this issue - usually by those of non-aboriginal descent - it is appropriate and relevant for the nation's most respected indigenous dance company to respond.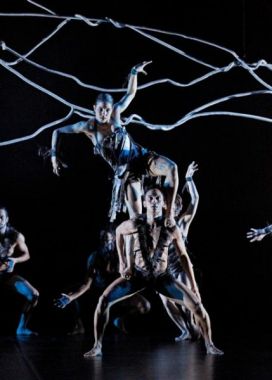 Belong is a beautiful suite of stories told through dance by two choreographers. Elma Kris' first half titled About, is evocative of an ancient history, one that feels somehow older than the land on which it resides. Subtle, smoky lighting, music and sound-scapes so elegant in their simplicity and lithe liquid bodies combine to move the audience through each piece. It is sophisticated choreography, that mixes the traditional with the contemporary and for the most part it works, although the lifts did appear to be slightly challenging for some of the dancers.
The second half, called ID, is classic Stephen Page and in his 20thyear as artistic director of Bangarra his style shows no sign of yellowing around the edges. It is crisp and clear in its message and striking and bold in its delivery. Page has the unique talent of taking current issues and applying them to the stage in a way that doesn't preach to the audience. The use of technology in this half of the show is particularly exciting and very different.
The pieces, Butcher, Part 1 - Fraction and Part 2 - Class 7B, are absolute standouts and clever in their response to the not so eloquent jibs by some quarters of the media that aboriginality is purely based on the colour of one's skin.
Matt Cox's lighting does an excellent job in creating moods and space, while Emma Howell's costumes designs are exquisite.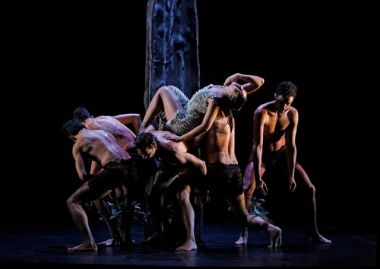 But of course the stars of the show are the performers. Bangarra's style is not one of dancers in exact time in that chorus line, jazz hands kind of model. Rather these dancers are not only individuals but parts that make up an organic, breathing being that is elusive and ever-evolving.
Whitney Fitzsimmons
Images: Bangarra Dance Ensemble in About; Ella Havelka and Jhuny-Boy Borja in About; Jasmin Sheppard and Bangarra Male Dance Ensemble in ID. Photographer: Jeff Busby.
To keep up with the latest news and reviews at Stage Whispers, click here to like us on Facebook, or follow us on Twitter.