Bernhardt/Hamlet
By Theresa Rebeck. Melbourne Theatre Company. Southbank, The Sumner. 4 March – 15 April, 2023
We plunge straight into the story: Sarah Bernhardt (Kate Mulvany) is rehearsing Shakespeare's Hamlet ­– and the text is annoying her. Too much 'poetry'. Why is Hamlet so passive? Why doesn't he do something? Her colleague Constant Coquelin (Marco Chiappi) disagrees; he's played the role four times, knows it backwards and loves the poetry. In fact, all Sarah's male admirers – her (current) lover, Edmond Rostand (Charles Wu), designer and artist Mucha (Tim Walter), theatre critic Louis (John Leary), even Sarah's adult son, Maurice (William McKenna) – are against the idea of Sarah playing the Danish Prince – let alone her take on Shakespeare's text.
But of course, Sarah will prevail. That's the salient narrative thread that runs through this sparkling comedy-drama. She is unstoppable - and that is the salient trait in her character. For a woman to play Hamlet – and demand Rostand rewrite it, removing all that 'poetry' - is a provocative artistic decision, but one completely in keeping with the play's depiction of Bernhardt's character. Why shouldn't a woman play Hamlet?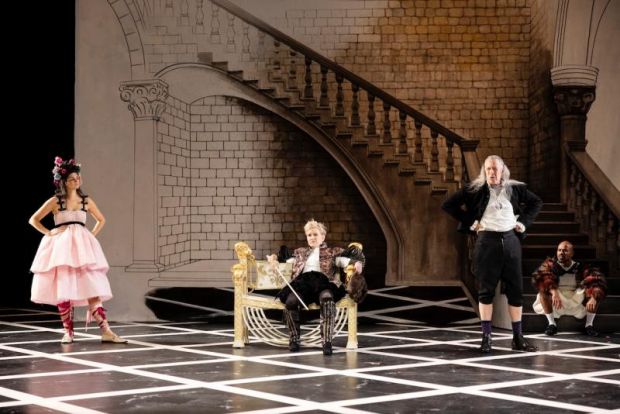 But it's also a calculated commercial decision. It's 1899, Bernhardt is fifty-five, too old for the ingenue and dying heroine roles that have made her the most famous actress/celebrity in the world. Her last production, written by Rostand, was a flop at the box office. Bernhardt – owner-manager of her own theatre as well as its star – desperately needs a hit and the money. (The play pretty much omits her breathtaking extravagance.) It's this oh-so-realistic treatment of theatre making that gives the play its richness, its intellectual challenges, its feminist heft, and its comedy.
The opening rehearsal takes place in front of Marg Horwell's splendid backdrop. It's like a huge watercolour painting, with perfect perspective, which supplies a lovely sight gag on the way through. As the play rolls on, some sets – a bar/café, Bernhardt's sumptuous dressing room – are wheel-on naturalistic creations, but there are also multi-purpose collapsing backdrops and drifting trees. Quite the most delightful and witty design I've seen in quite a while. Likewise, Horwell's costumes – a mix of period and not-quite-period.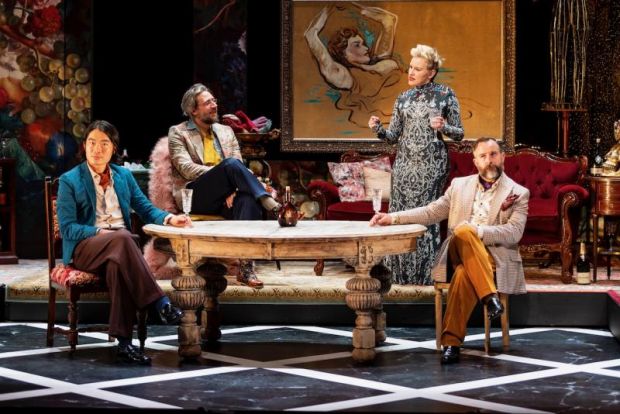 Anne-Louise Sarks overall bold imagination is clear here – and what nerve to pick this monster as her first show as director in the MTC's 2023 season. She uses the big Sumner stage extremely well, particularly in composing images that direct our attention exactly where she wants it. The attention to detail in all aspects of the production are truly impressive and the transitions from comedy to pathos to genuine vulnerability – a fine example being the scene between Mulvany and McKenna as her son Maurice. Here we see two performers who know exactly how to mix one-liners with genuine emotion – and allow us to see another side to Bernhardt. The play's final scene, in which we see an almost empty stage, right up to the back wall, reminds us of what this has been all about: putting on a show.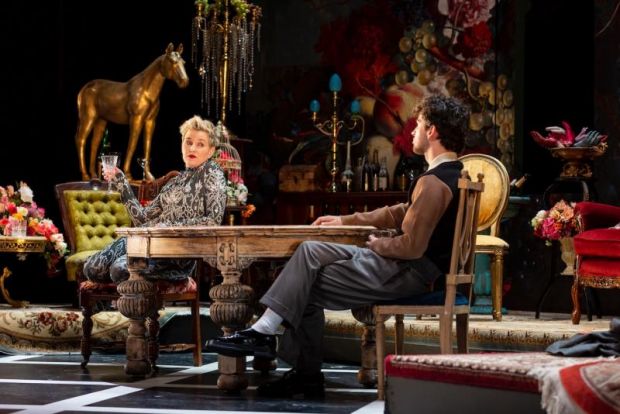 This is a play about many things. One might argue that it's about too many things. There are scenes which are cleverly written intellectual discussions, but which seem to be there to air the issues rather than advance the narrative. When Rostand's wife Rosamond (Izabella Yena) shows up, not to protest the affair but that this Hamlet rewrite is interrupting her husband's real work, something called Cyrano de Bergerac, for once Bernhardt is given pause. But then things get confusing: Bernhardt admires the play, but objects strongly that Roxanne is passive, merely beautiful – and yet in the play we know, Roxanne is passive, merely beautiful. And then the narrative effectively stops while we get an excerpt from Cyrano – albeit wonderfully done with Marco Chiappi as Cyrano – before we return to Hamlet.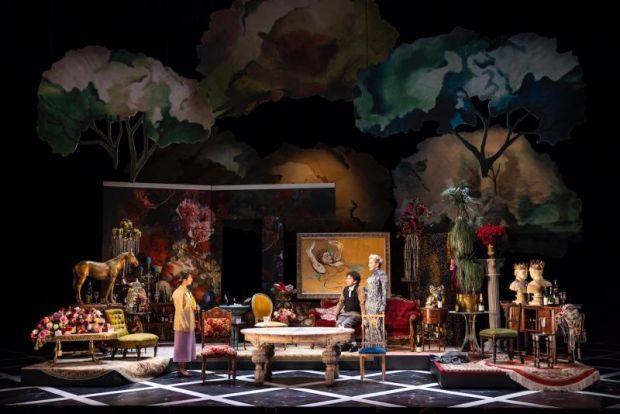 That aside, what holds the show together is Mulvany. She attacks the role with – to borrow the term Rostand made famous – panache – so much so that her supporting cast (apart from Chiappi) rather pale into cut-outs, perhaps because they're there because they were there. The putative cast for Hamlet ­– Tahlee Faraday, Dushan Philips and Sahil Saluja – doesn't rise much above adoring idiots, perhaps an odd note in context.
Playwright Theresa Rebeck may not quite put Sarah Bernhardt – the Divine Sarah – on the stage in all her complexity: but then she has other fish to fry.
Michael Brindley
Photographer: Pia Johnson