The Best Little Whorehouse in Texas
By Larry L. King and Peter Masterson and Carol Hall. Catchment Players (Vic). Director: Anne Dewar. Choreographer: Di Crough. Musical Director: Nathan Firmin. October 21 – 29, 2011.
Catchment Players' Spring production, The Best Little Whorehouse in Texas, is the hit Broadway musical based on the true story of legendary Texan whorehouse, the Chicken Ranch, that operated from the 1840s until 1973, when crusading media do-gooder and his conservative followers 'exposed' the Chicken Ranch, forcing its closure.
Miss Mona Stangley, the Madam, was given a superb portrayal by Adrienne George, both from an acting point of view, and her lovely, clear vocals. As Sheriff Ed Earl Todd, Scott Reid captured the role comfortably, sharing a good rapport with Adrienne George. He has a good stage presence and a pleasant voice.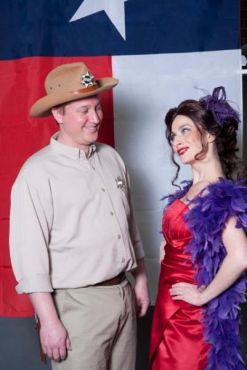 As Jewell, Miss Mona's maid, Ruth Bishop is a wonderful performer with a lovely voice, who acts well to boot.
Brad Fischer gave an excellent portrayal of the crusading do-gooder Melvin P. Thorpe, in an appropriately over-the-top performance. Fischer really grasped the task at hand, and was rather reminiscent of Liberace with his wig and spangled costume.
The three roles of Senator Wingwoah, Mayor Rufus Poindexter and Miss Wuilla Jean were well interpreted by Arno Vann. Will Deumer was a sheer delight in the light-hearted role of the Governor, adeptly dodging vital questions with great comic timing.
Catchment's excellent Whorehouse set featured stairs on each side, leading up to the girls' rooms. Centre stage downstairs was the front entrance with a wagon wheel centre, behind which the orchestra sat, dressed in cowboy outfits matching the mood of the show.
There were no poor performances, though it was hard to believe the lascivious looks coming from some very young looking girls.
Although the singers were miked, the sound engineers got the correct balance resulting in a pleasant evening of theatre.
Peter Kemp
To keep up with the latest news and reviews at Stage Whispers, click here to like us on Facebook, or follow us on Twitter.