Bette and Joan
By Anton Burge. Directed by Lynne Devenish. Garrick Theatre, Meadow St, Guildford, WA. Feb 13-29, 2020
Bette and Joan is a play about two strong mature actresses, and is a great vehicle for two strong, mature actresses. Garrick Theatre, and director Lynne Devenish, have chosen fine performers for this two-hander, in the form of Siobhan Vincent and Sarah House.
Set in the dressing rooms of Warner Brothers B film backlots, during the filming of "Whatever Happened to Baby Jane" in 1962, the play is played largely in adjoining dressing rooms, via interconnected monologue, as these actresses, with a reputation for being mortal enemies, talk about themselves, each other and the motion theatre industry. The scenes with Bette and Joan in the same room are fascinating, and these actress play the uneasy amicability (and underlying animosity well).
Sarah House plays Joan Crawford with elegance and sophistication. Seemingly kinder and more gentle, she play's Joan's hidden venom beautifully as required. Siobhan Vincent plays Bette Davis as a diamond in the rough, with great depth, that unravels throughout the play. A hugely wordy play, the dialogue is well played and there is obvious research and layers in both performances.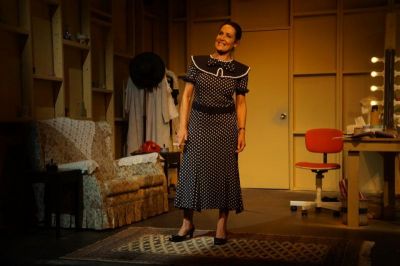 The dressing room spaces are well designed and created by James Nailen, Caileb Hombergen-Crute and Geoff Holt, while Caileb Hombergen-Crute and Stuart Ridgway's lighting design often creates very different feels across the two rooms. Colleen Bradford's costume and makeup nicely recreates the characters of "Whatever Happened to Baby Jane" and finishes with the beautiful glamour of the title actresses in their own clothing. Wigs, well styled by Lynda Stubbs, complete their looks.
A great chance to see some female centred theatre, with some excellent performances - a must see for lovers of classic cinema, but also a great night for those who just enjoy good drama.
Kimberley Shaw