Between Tiny Cities
Adelaide Festival. (Australia and Cambodia). Lion Arts Theatre. 28 February - 4 March, 2020
Between Tiny Cities is an exciting and thrilling hip-hop dance piece, created by Australian hip-hop choreographer Nick Power. It is the result of a wonderful collaboration over four years between hip-hop groups in Darwin and Cambodia.
Two young men, Aaron Lim from Darwin and Erak Mith from Phnom Penh meet in hip-hop's traditional 10 metre diameter 'cypher' circle with the audience standing around the circle. Initially the meeting is confrontational and aggressive; the only thing these two young men have in common is their vitality and youthful aggression and hip-hop. Eventually, however, aggression turns to exhaustion and they collapse in the centre of the stage.
They then share the life-giving nourishment of water. Following this Erak Mith begins to sing and dance, encouraging Aaron Lim to respond in a likewise manner. He does not. It would seem, for whatever reason you may imagine, that he has no 'song', but he does have dance and he eventually responds with this.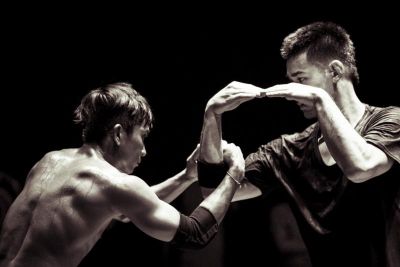 The final sequence is truly extraordinary and simply beautiful. The two young men begin to make actual physical contact. It is highly sensual as together they create stunning visual images, mainly with their hands. Is it a flower? Or is it a star? Or something else? Again – it is up to the individual observer's imagination to decide.
In a performance that runs just 40 minutes, with a terrific soundscape (sound design by Jack Prest), Aaron Lim and Erak Lim are simply fantastic; breath-taking in their skill and power, taking one on a thrilling and dynamic journey of connection between two strangers.
Highly recommended.
As the Adelaide Festival enters its second and third weeks, after the more 'adult' works such as Requiem and The Doctor, there is now a number of 'youth' and 'family' orientated shows, such as Dimanche and Between Tiny Cities. Rachael Healey and Neil Armfield should be congratulated and highly praised for not only producing another wonderful Adelaide Festival in regard to content but also in how the Festival has been so cleverly and effectively structured.
Tony Knight
Photographer: Pippa Samaya