Billy Buckett
Story, music and lyrics: Jay Turner, script: Peter Cann, Jay Turner & Cath Mundy. Beenleigh Theatre Group. April 26 – May 11, 2013. World Premiere.
A brand new rock'n'roll musical, an insight into love and family affairs in post-war England, enough unbridled energy onstage to light Beenleigh for a whole weekend ─ the adrenaline rush should send theatregoers home smiling so people at work will think they're in love. As they ought to be, with this new show!
Wartime baby Billy Buckett, with dreams of being a rock star, was reared in an orphanage and trained as a mechanic. He gets a job in a workshop, meets a smashing lass from the other side of the tracks, pursues her until her rich industrialist father finds out, almost loses her … well you know how these things were dealt with in 1959-60.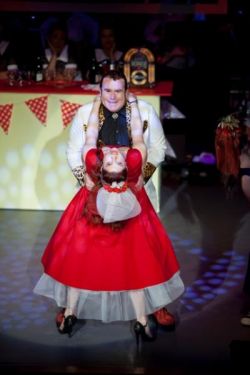 Stephen Dorrington's charismatic Billy is matched nicely by Lauren Lee Innes-Youren as upper-class Jan Burns, his boss's daughter. Both have super voices for this genre (and I congratulate Lana Christensen for maintaining the sound balance between all the modern-miked principals). They are ably supported by Doug Rumble (Big Ted), Lachlan Clark (Marty) and ScottYoung (Brian) – Billy's workmates – and Alison Nipperess (Maureen), Jermia Turner (Shirley) and Kate Davies (Betty) respectively – their girlfriends as the plot develops.
Jan Burns's parents, Arthur Burns (Ian Maurice – whose baritone enriches every song in which he participates) and his wife Helen (Linda Hall) give us insight into how families functioned back then, when sometimes power in emergencies came from the kitchen.
This company acts, sings, dances with passion and commitment. Their joy rains over the audience. I applaud the rock band; the choreographer; the voice coach who got all the right actors sounding like people from Essex; the many invisible techies who contributed their talents; and the wardrobe personnel who, I suspect, wiped out several Op Shops to find costumes right for 1959-60.
Billy Bucket is a great night out!
Jay McKee
Images: Vincent Swift Photography.