Billy Elliot the Musical
Music by Elton John, book and lyrics by Lee Hall. Universal Theatrical Group, Working Title Films, Greene Light Stage, Michael Coppel, Louise Withers and Linda Bewick. Regent Theatre, Melbourne. Opening Night: February 22, 2020
Billy Elliotis technically about a small boy in a small town, but it translates to a massive theatrical experience which packs multiple emotional punches, especially with Lee Hall's lyrics married to Elton John's score, with direction by Stephen Daldry, choreography by Peter Darling, and the orchestra under the virtuosic direction of Michael Azzopardi.
The plot mostly follows Hall's and Daldry's 2000 film of the same name. Against the background of the 1984-85 miner's strike in England, 11-year-old Billy Elliot discovers, almost by accident, a natural talent for ballet. Mentored by the local dance teacher, who can see his outstanding potential, Billy has to struggle to gain acceptance to follow his absolute need to dance, and then to audition for the Royal School of Ballet.
His family are loving, but distracted by the violent clashes and grinding worry of a year-long strike, as well as grieving for Billy's mother, who died only a few years before; and completely bewildered by Billy's desire to pursue something so alien to their own experience. They are a taciturn group of people but their passion for reform, and their uncontainable anger as the strike unfolds (or some small victory is won) spills out into powerful raw-throated emotion.
Grandma (Vivien Davies) is the prime example of this: somewhat off with the fairies, she has precisely zero filters: her irrepressible song about finding respite from an abusive husband with a few hours of dancing both speaks to Billy's future, to her own regrets, and to her wish for something better for Billy.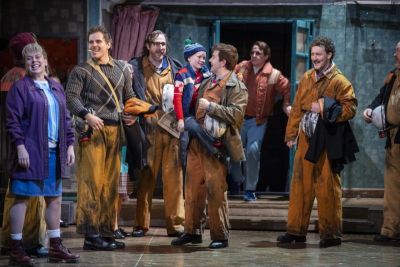 This is part of a wealth of rich thematic material – the need to be who you are, or to accept who you have become. The need to be seen, heard and listened to – both a country in turmoil from the strike, and at the local and then the very personal level. It is one of the strengths of this sprawling musical (clocking in at just under three hours of stage time) that all of these levels are present most of the time, and skilfully interwoven through innovative staging, with the younger cast more than pulling their own weight dancing with, tumbling round, and clambering over the adults.
A lot of the action happens in "the welfare" – the local hall; and much of that is in the dance classes, which are a whirl of tutus and shouting, with Lisa Sontag as vibrant eye of the storm, Mrs Wilkinson. Endlessly exasperated by her own daughter (a very funny Ella Tebbutt as Debbie) and the class of very averagely-talented local girls (and the girls managed to look untalented, no mean feat when you see what they can do later). She is ably supported by a wonderful comedic performance by Dean Vince as Mr Braithwaite, her taciturn accompanist and factotum, who makes "Born to Boogie" a highlight.
Lisa Sontag is vibrant and ferocious in the role, and she becomes protective of Billy as his talent unfolds, imagining a future for him and calling out Billy's Dad on his narrow-mindedness. There is one particular very still moment in the middle of the hurly-burly, where Mrs Wilkinson is giving minute adjustments to Billy's posture, the girls are silent, the music has stopped, and Billy instinctively understands the next thing to do, and it is a glorious moment of discovery.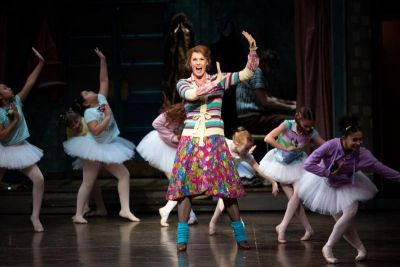 River Mardesic is simply extraordinary in the title role, which demands that Billy be present much of the time on stage, run through a full gamut of emotions (including an increasingly desperate fight for his right to an artistic future) and dance almost continuously. He is able to hold the large stage at the Regent Theatre by himself, and seems fearless in his fierce portrayal of Billy. While he sings very credibly in "The Letter" and "Electricity", Billy's two big dance sequences – the Angry Dance (which involves him fronting a row of ominous riot police) and his pas de deux with his future self (a lyrical Aaron Smyth) are where River Mardesic carries the show for a while on his young shoulders.
He is also drawn into the orbit of the equally extraordinary Oscar Mulcahy as Michael, Billy's secretly cross-dressing young friend; and the two of them sing and tap their way through the sheer delight of "Expressing Yourself".
As Billy's Dad and brother Tony, Justin Smith and Drew Livingston are compelling as men caught up in their own struggle for a future for their town; ordinary men facing down desperation and violence, torn between principles and necessity. Robert Grubb, Damien Bermingham and Danielle Everett lead a stellar ensemble, which switches between miners and police, mums and dads, and protesters without missing a beat. However, the most powerful sequence is the company's full-throated performance of "Once We Were Kings", where the miners return to the mines, and bid farewell to Billy, leaving him alone on stage, acutely aware of what has been sacrificed to give him his chance.
Alex Armstrong
Photos: James D. Morgan. Getty Images.