Birdland
By Simon Stephens. New Theatre, King St, Newtown. October 3 – November 4, 2017
Birdland by British playwright Simon Stephens belongs to that long tradition of stories about immoral rock stars lost to fame and the hedonism of, well, sex, drugs and rock n roll.
One night in Moscow, bored on tour, Paul (played with a charming, almost ordinary cruelty by Graeme McRae) seduces his best mate's beloved, fragile girlfriend (Louise Harding). The next morning she jumps from the hotel's top floor.
Paul's crass efforts to assuage his guilt, especially when visiting the poor girl's parents back in France, and mollify his mate Johnny (a trusting Jack Angwin), begins a slide hastened by drugs, underage sex and a dastardly manager.
Yes, it's a familiar story, but director/set designer Anthony Skuse keeps the narrative dancing across his raked and fractured, panelled stage. Without props, pause or fuss, a young ensemble expertly swaps roles as fans, victims, sycophants, staff and family hovering around the empty charisma of Paul.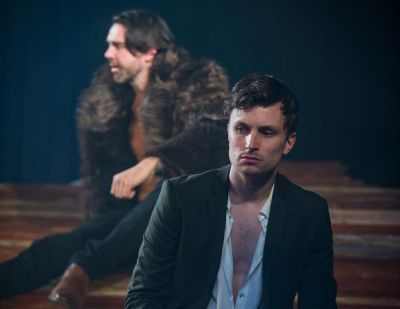 Two hours without an interval, this compelling, well-told tale sweeps across Europe and a kaleidoscope of (good) accents, supported by Benjamin Freeman's quiet musical punctuation.
Almost all the cast are new to the New. And all are strong – including Charmaine Bingwa (perfect as Paul's uncertain Dad), Airlie Dodds, Leilani Loau (a grieving French mum then Moscow journalist then British detective) and Matthew Cheetham (notable as Paul's motor-mouth London manager and a naïve Scottish fan).
So Is this crash and burn story of a rock star, and his Faustian deal with fame, some bigger story about the moral collapse of high capitalism or the egocentricity of modern youth? Probably not, and nor do we learn anything of Paul's musical or artistic ambition, but this telling of Birdland is inventive and focused theatre.
Martin Portus
Photographer: Chris Lundie.