Black Brass
By Mararo Wangai. Performing Lines / Perth Festival. Directed by Matt Edgerton. Studio Underground, State Theatre Centre of WA. Mar 4-7, 2021
Black Brass is a beautifully told story presented by Performing Lines, for Perth Festival. Based on over twenty hours of interviews with people from various African countries who have come to call Australia home, this story of an African immigrant on the evening before an interview which may lead to his citizenship, is supported by songs in Swahili, Lingala and French.
Set in a recording studio, well created on a revolving stage by Zoë Atkinson, a cleaner, played by author Mararo Wangai, is finishing his shift. We learn that he feels the only way to survive, and to be Australian, is to forget the past. We suddenly are aware of the presence of Mahamudo Selimane, a character who does not talk, but communicates only through music and song. Performed with great personality, his presence and the music gradually reveal the history that the young cleaner is so keen to leave behind.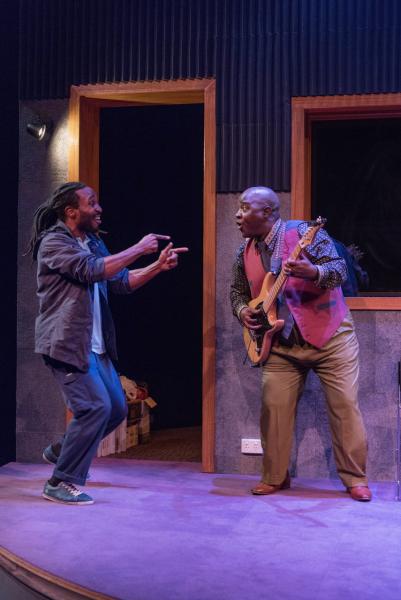 Expertly acted and sung with passion, the synchronicity of these performers is outstanding. While the subject matter is quite disturbing, there is a gentleness to the storytelling and a beautiful warmth in the presentation. Wonderfully written by Mararo Wangai and composed by Mahamudo Selimane as they join to create an organic tale.
More than just a performance, theatregoers are invited to arrive early in order to enjoy a multitude of delights in the foyer, which include displays of African goods, the opportunity to taste Ethiopian coffee, hair-braiding, and the sharing of inspirational quotes.
A wonderful sense of story and a great sharing of African culture. A great choice for those who enjoy something just a bit different
Kimberley Shaw