Black Brass
By Mararo Wangai. Performing Lines WA. Directed by Matt Edgerton. Belvoir St Theatre. Jan 6 to 23, 2022.
A cleaner walks into a recording studio strewn with beer bottles and empty pizza cartons. His life is in as much chaos as the room – struggling to keep his job, his girlfriend and residency.
Just as many tertiary-qualified migrants take up low paid manual labour to make ends meet, the irony of this this play is that a celebrated performer in his homeland is cleaning up the rubbish of Australian musicians.
With words from just one actor - Mararo Wagai (who wrote the monologue) and music from Mahamudo Selimane (the composer and performer) - the audience is taken on a remarkable journey which switches back and forth from Australia to Africa.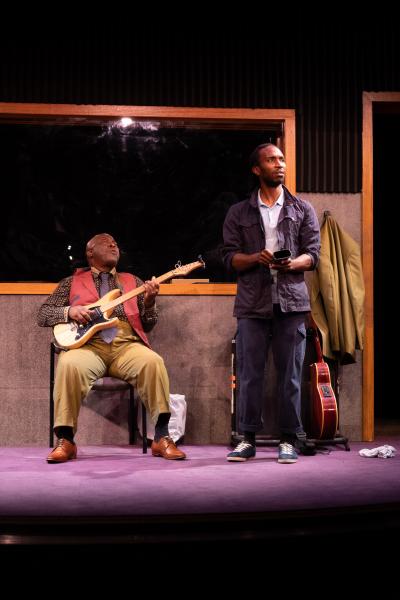 The play was inspired by interviews with Perth's African communities, drawing on the experience of immigrants from eight countries including Zimbabwe, Central Congo and Kenya.
This is not a story of any one country in particular, but a mixed brew as aromatic as the Ethiopian coffee served in the foyer on arrival.
The delight of this production is that the music and song is used like dialogue.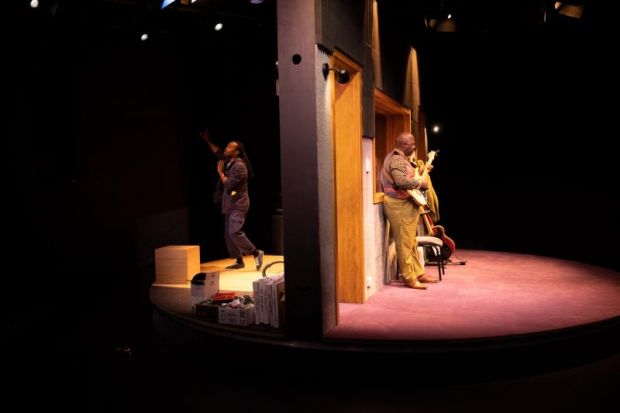 Mahamudo Selimane jams beautifully but says nothing. The songs in languages from Swahili to Xhosa ricochet off Wagao at times of high drama, and drench the audience in a joyous soundscape on other occasions.
The main staging tool of the production is a revolve from the outside to the inside of the recording studio. As the drama progresses the pace of the revolve picks up – aided by a seductive lighting design from Lucy Birkinshaw and sound design from Tim Collins.
At a time when international travel is off the agenda the heady mix of music, drama and song was transportive.
David Spicer
Images: Richard Kobla Dido