Blackie Blackie Brown
By Nakkiah Lui. Sydney Theatre Company. Directed by Declan Greene. Wharf 2 Theatre. May 12 - June 30, 2018
The set for this premiere play is like a blank canvas: a white floor and wall made up of equal-sized boxes on which something can be drawn. In this case, it's a rollicking comic-book animation, which drives a thrilling work that touches at the heart of black and white relations in modern Australia.
Blackie Blackie Brown: The Traditional Owner of Death is, above all, fun. Nakkiah Lui is one of the country's top young playwrights, having made a name for herself with Blak Cabaret and Black is the New White (which had an encore season at the Sydney Theatre Company this year). This new play, a coproduction between the STC and Melbourne's Malthouse, is full of jokes and fast-paced action right from the start. First to appear on the canvas after a startling title sequence is a real man, speaking flamboyantly to his boyfriend on the phone after a night at the theatre. A sound is heard; he soon comes to a grisly but humorous end.
Then we're transported to an outback archaeological dig to meet Dr Jacqueline Black, who is spoken to by her great-great-grandmother after discovering a mass grave. Black is asked to carry out revenge for her ancestors, who were killed by a group of white men. Thus the so-called superhero Blackie Blackie Brown is born.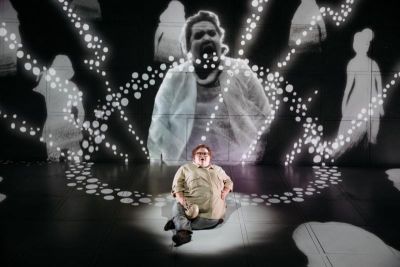 Ingeniously, there are only two actors in this play: the all-conquering Megan Wilding as Blackie Blackie Brown and the wonderful Ash Flanders as most of her victims. Other roles, including the great-great-grandmother and a young boy who becomes an innocent victim, are part of the animation. Wilding and Flanders expertly interact with them, never missing a beat in their dialogue or in the fast-paced movement that's choreographed to lights and videos.
Together with designer Elizabeth Gadsby, animators Oh Yeah Wow and lighting/ projection designer Verity Hampson, Declan Greene has created a brilliantly entertaining work with delightful visuals and technical feats. While modern theatre can sometimes be lessened by videos and other whiz bangery, here it works wonders. The animation is key to bringing this comic-book idea so deftly to stage.
Blackie, Blackie Brown has an intriguing idea at its core: how indigenous people can reclaim their past and control their destinies (Lui gets to the heart of this politically, too, with a reference to a representative voice in parliament). As a white person, it's difficult for me to write about this without seeming patronising - that's explored in the play too.
But above all this is entertainment. And never before have I seen such great animation (integrated with skilled acting) on stage.
Peter Gotting
Photographer: Daniel Boud