Blaque Showgirls
By Nakkiah Lui. Directed by Sarah Giles. Merlyn Theatre – Malthouse. 11 November to 4 December 2016
Blaque Showgirls is a unique, timely, riveting work that is not for the faint hearted. It is raucous, lewd, crude and ridiculously funny, politically very dodgy and out there. Depending on one's sensibility, it is perhaps a little destabilizing and disconcerting.
Nakkiah Lui, who is also a writer on Black Comedy on the ABC, writes a satire that is based in the fluid social milieu in which we live. It plays with notions of performativity and constructs. For example; if sex is performed and gender a construct, could race also be seen as a construct. Are all three constructs? Have we commodified them, all three?
The whole is like a big narrative skit with loads of smaller skits that leave one with the feeling that 'whities' in our community will never really let minorities and particularly Aboriginal and Torres Strait Islanders reach and maintain unfettered independent agency.
It talks about exploitation and appropriation and comes to surprising conclusions.
All performers are impressive. As Ginny Jones, Bessie Holland, a girl on a quest to be come a Show Girl like she believed her mother once was, presents a delightful mix of girlish determination, ruthlessness and vulnerability. She is as controlling and manipulative but innocent and righteous.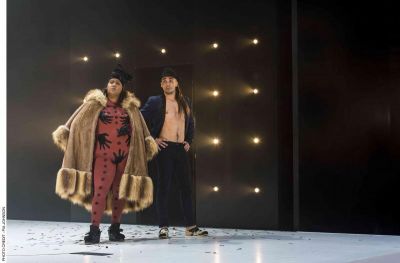 Guy Simon impresses as Kyle MacLachlan and True Love Interest. As with his work as the title role in MTC's recent production of Jasper Jones, Simon brings clean focus and a lovely fresh energy.
Direction seems to be totally appropriate to the material. However it needs to be said, looking at the names of the extremely accomplished production crew, it is a pity that more aboriginal creatives are not part of this team.
If you have been engaged or fascinated by or enjoying Black Comedy on the ABC this is a main stage theatre performance for you. Or if you want to keep up to date with changing mores from a 'black' pen on contemporary racial politics and the commodification of culture it is well worth catching.
Warning it is provocative - you could be offended - my plus one was.
Suzanne Sandow
Cast:
Molly – Emi Canavan
Chandon Connors – Elaine Connors
Ginny Jones – Bessie Holland
Kyle MacLachlan/True Love Interest – Guy Simon
Credits
Dramaturg – Declan Greene
Contributing Dramaturg – Louise Gough
Set and Costume Design Eugueene Teh
Lighting Design – Paul Jackson
Composition and Sound Design - Jed Palmer
Images: Guy Simon & Bessie Holland, and Elaine Crombie & Guy Simon. Photographer: Pia Johnson.