The Bleeding Tree
By Angus Cerini. Directed by Ian Michael. The Blue Room Studio, Perth Cultural Centre, WA. Nov 23 – Dec 11, 2021
The Blue Room's The Bleeding Tree, set in an isolated Australian town, is an hour-long tale about the ultimate revenge. Featuring a cast of three First Nations women, it tells of a mother and daughters who despatch the abusive man of the house, then need to deal with the consequences.
Beautiful teamwork from performers Karla Hart, Ebony McGuire and Abbie-Lee Lewis who work together using joint story-telling and portraying the family of women and their neighbours in a presentational style that plays with language and is highly poetic. A demanding piece of theatre, the acting and passion in strong throughout.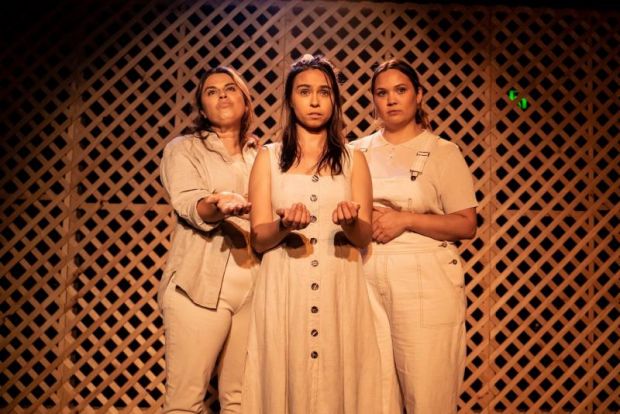 While these women might be in breach of the law, this piece places them very much as heroines and we find ourselves hoping that they will get away with the deed, as their spouse and father's body hangs for three days on the "bleeding tree".
Tyler Hill's latticework set evokes both a cage or trap and the wood of the outback, lit with strong choices by Chloe Ogilvie. Rachael Dease's organic sound design blends beautifully with the action.
An interesting, well-told story that draws you into this world.
Kimberley Shaw.
Photographer: Tashi Hall