Blink
By Phil Porter. bAKEHOUSE Theatre Company / Luke Rogers / Stories Like These. Kings Cross Theatre. Feb 9 – Mar 4, 2017.
Jonah grew up on a farm and spent his teenage years with a camera keeping watch for marauding hoons who began attacking the property after the death of his father. Sophie grew up on the Isle of Mann then moved with her father to share the ground floor of two flats in London. When her father dies and she loses her job, she moves into the first floor flat and renovates the other as a rental property, though she feels that she is gradually disappearing.
Both their mothers have died of pancreatic cancer. They are both now alone.
Three years after his mother's death Jonah finally opens a letter she has left for him. He's been holding off opening it because it's his last tangible tie with her. In it he finds she has left him some money – a substantial amount – buried behind the barn. With this in hand, he moves to London, and leases Sophie's ground floor flat.
If this seems like the beginning of a conventional love story, it isn't. Rather it's a 'quirky, dysfunctional' love story about two lonely people who connect via, incredible though it may seem, a WiFi baby monitor, which Sophie sends unanimously to Jonah. He watches her – and she feels less invisible. He follows her – and she pretends she doesn't realise until, eventually … but saying any more would give too much away.
This is a gentle, touching play that is a reprieve from the bleak themes and troubled characters that people so much theatre and cinema. Phil Porter's scenes are delicately crafted, his characters tenderly developed, their foibles and their relationship disclosed in carefully written and delicately timed dialogue that softly reveals inhibitions and desires.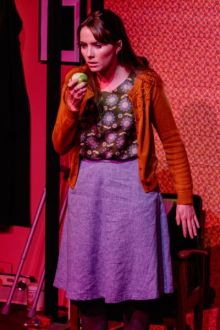 Luke Rogers' direction is similarly delicate and theatrically deft. He uses the snug intimacy of the KXT stage to involve the audience closely in the lives of these two young people, blocking scenes so that layers of emotion – anxiety, distress, warmth and concern – are very real and carefully paced. He matches Porter's sympathetic writing with empathetic vision and direction.
His actors relate to both with consummate skill and intuitiveness.
James Raggatt plays Jonah finding the guileless naivety of the character in hesitant candor and humble lack of sophistication. His moments of stillness and silence reveal as much of his character as his carefully timed words and tentative action.
Charlotte Hazzard is beguilingly believable as Sophie. There is sensitive understanding as she exposes Sophie's fear of disappearing into a void of invisibility. Her Sophie is wary, cautious, watchful – but also just a little shrewd and manipulative.
Together they recreate Porter's characters and their strange relationship with perceptive appreciation and intelligent interpretation on a set designed to make the most of a difficult stage. Designer Anna Gardiner uses one wall to suggest a doll's house-like backdrop complete with photographs, shelves and a bedside table essential for a surprise scene late in the play that also involves a succulent garden enclosed in strong, transparent Perspex. This is a difficult space for which to design, but one that lends itself to creative imagination and close collaboration between designer and director.
bAKEHOUSE Theatre Company continues to bring new and inventive productions to their intimate Kings Cross space. This production by Luke Rogers and Stories Like These is a sensitive, compelling production that marks the beginning of an exciting, innovative season.
Carol Wimmer
Photographer: Robert Catto.