Blithe Spirit
By Noël Coward. Directed by Trevor Bond. St Luke's Theatre Society (Qld). St Luke's Theatre. 15 – 23 November, 2019
St Luke's production of Coward's otherworldly comedy is amusing audiences this November with its wit, twists and ghostly apparitions. Director Trevor Bond has assembled a talented cast and crew for what is the final production for the foreseeable future in St Luke's Ekbin Road Theatre. It's not all bad news, as the community theatre group, run entirely for charity, has found a temporary home in a neighbouring suburb for their 2020 season after which they hope to return to a newly renovated Ekbin Road space.
Blithe Spirit is the story of a writer, Charles Condamine, who invites some guests to a séance so he may research a character for a murder mystery. Charles, his wife Ruth and guests are very sceptical and before the session with Madame Arcati, are sure she's a hack. When Madame Arcati inadvertently summons Charles' deceased wife's spirit, he and Ruth are forced to change their minds and their lives.
Bond's long history with Blithe Spirit began with his own experiences as an actor. As such he's brought an in depth understanding to his direction of the work. The cast has been well rehearsed and guided toward getting the most physical and verbal comedy out of the script. Thankfully they do so without resorting too much hammy mugging; for the most part playing the characters with heightened realism.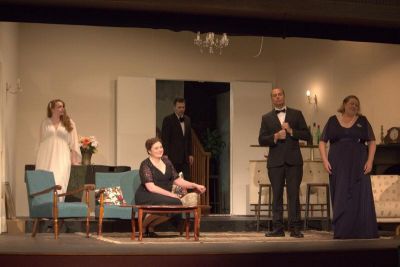 Philippa Dwyer shows entertaining physical comedy skills as Edith. Madelyn Bickerdike commits to a naturalistic portrayal of Ruth Condamine, as does Matthew Hobbs as Charles Condamine. Both are well cast, handling the great rafts of dialogue with ease. The star of the show, however, has to be Desley Nichols as Madame Arcati. She has such charisma and is a total pleasure to watch, you can't wait for the moment she next appears on stage.
Trevor Bond's set design is very clever, especially the way in which he's used a staircase at the back of the set to create depth and levels. Barry Kratzke's set dressing is period appropriate and contains a lot of lovely little details that make the room feel lived in. The costumes by Lia Surrentino and cast are mostly accurate to the time, with the occasional anachronism. Madame Arcati's medium costume is absolutely wonderful. Lighting and electrics by David Lang are very well executed, particularly in the final scene of the play.
This is a fun production, presented with a lot of love and enthusiasm for the craft. The acting is solid, supported by a skilled crew behind the scenes.
Kiesten McCauley