Blithe Spirit
By Noël Coward. Ipswich Little Theatre. Director: Kate Mallory. Incinerator Theatre, Ipswich. 27 Feb – 14 Mar 2020
In 2004 Charles Spencer in the Daily Telegraph said Noël Coward had written three 'comic masterpieces' Hay Fever, Private Lives and Blithe Spirit. The latter was created in 1941, ran five years in the West End, and was the longest-running play in London until overtaken by The Mousetrap. It was Coward taking a swipe at the fashionable pastime of Ouija boards, séances and mediums, and it still hasn't lost its currency today. Yes, the play is long, and of its era (nobody today refers to anyone as being 'beastly'), but judging from the number laughs generated yesterday at Ipswich, there's still a lot of life in the plot.
Charles, a cynical writer, accidentally summons the ghost of his first wife Elvira at a séance. She tries to kills him but instead kills his current wife, Ruth, which leaves him with two ghosts to nag him.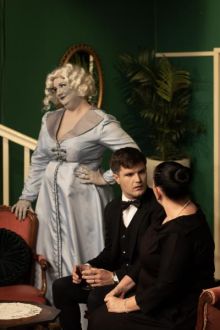 Director Kate Mallory wisely kept the play in period, co-designed an atmospheric set with Ian Pullar, and used forties swing music to give it ambience.
Charles Condamine was in good hands with Josh Dixon, who looked suave, landed the quips with accuracy, and adroitly handled the jealousies and petty deceits of his ghostly spouses.
Liz Ball's Elvira made the most of her apparition entrances, had fun moving props around, and managed to be a flighty, but sprightly, minx. Tracey Spence as the no-nonsense second wife ripped through Coward's dialogue with relish, whilst David Austin (Dr Bradman) and Linda Shapcott (Mrs Bradman) were an amiable and bemused pair of guests at the séance.
The role of the play of course has always been Madame Acarti, the slightly eccentric, push-bike riding medium. Nataliya Thacker's new-age version of it had a mid-European accent somewhere between Hungarian and Germanic, an op-shop dress sense, and an eccentric performance that drew attention. An audience favourite, she never missed a laugh.
Finally Georgie Page, was delightfully bewildered as the maid Edith, whose medium abilities, revealed at the finale, are the crux of the play. Despite it being creaky at times, Coward's wit carried the day.
Peter Pinne