Blithe Spirit
By Noël Coward. Sydney Theatre Company. Drama Theatre, Sydney Opera House. Mar 21 – May 14, 2022
Theatre makers often say that after lockdowns we need something light and bubbly to cheer us up. I'm not so sure, given some of the crimes recently staged in the name of laughs, including a couple at the Sydney Theatre Company,
Page Rattray's exquisitely comic version of Blithe Spirit is not among them. Interestingly, Noël Coward wrote his acclaimed farce during his own lockdown in the depths of wartime in 1941 (and took just six days to complete it).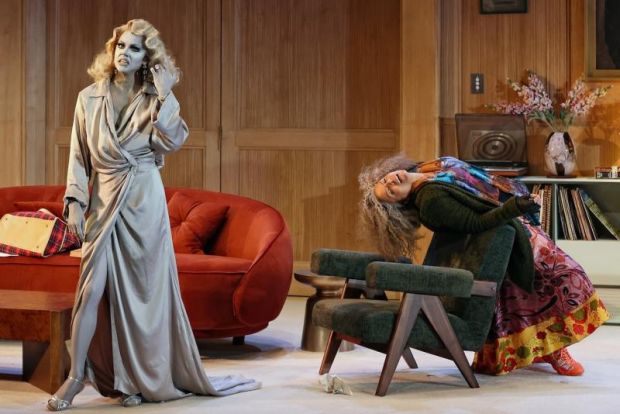 In an affluent British country house a famous novelist, Charles Condomine, and his bored wife, Ruth, invite the local doctor and his wife to a séance. But Madame Arcati mistakenly draws back the spirit of Charles' first wife, the rascally Elvira, and the household gets truly out of hand.
Rattray's genius is in the casting. Matt Day provides the production's true, (mostly) restrained centre as the pompous Charles, while Bessie Holland as Ruth is, surely, an award-winning achievement of comic precision and boldness. She's a hoot, matched only by her hopeless and diminutive lookalike maid, Edith. Megan Wilding's every expression brings the house down.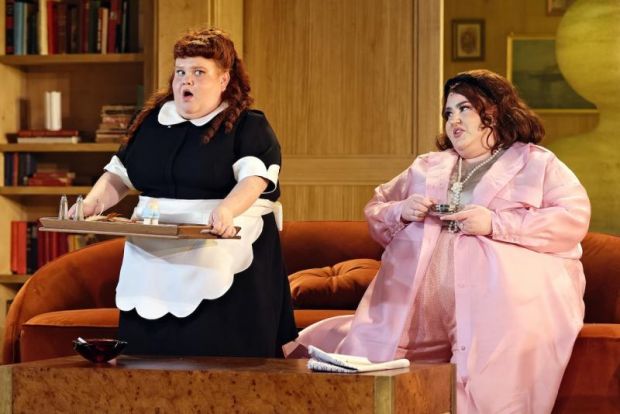 The reliable Tracy Mann excels as the heavily red whiskered, well kilted Dr Bradman, while Nancy Denis bustles nicely as his wife. And Brigid Zengeni is a delight as the mystical if heartily practical Madame Arcati.
Courtney Act (the alter ego of Shane Jenek) is the ethereal if petulant Elvira, striking in deadly grey gold, and in her grace and physicality. Her acting however misses an essential realism, and unlike the others, her accent is Australian. Truth demands a unified cast voice, and in this case, a cut crystal British accent which cloaks so much of the play's insincerities.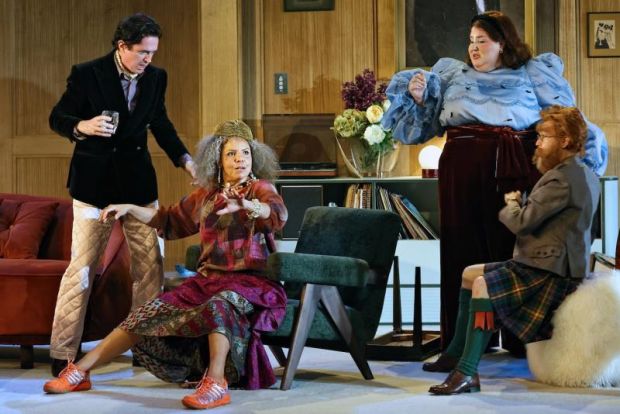 Elvira and other mystic happenings are brilliantly supported by Magic & Illusions Consultant Adama Mada as, by the end, David Fleischer's affluent drawing room is almost ripped apart. And Fleischer's vivid costuming gives an ideal cast perfect expression. Sound by composer Clemence Williams and lighting from Damien Cooper are allowed to rip by the end of this must-see melodrama.
Martin Portus
Photographer: Prudence Upton