The Blonde, the Brunette and the Vengeful Redhead
By Robert Hewett. The Theatre on Chester, Epping (NSW). Director: Kaye Lopez. July 29 – August 20, 2011.
Lives are flung out of orbit in this series of inter-connected monologues (almost). The seismic cause and effect impact of a single piece of idle gossip is at the heart of the play, originally seen as a solo performance by Jacki Weaver across Australia and North America.
Resonating comedy and human tragedy are intricately woven through the play, and captured effectively in Theatre on Chester's production.
A woman attacks and accidentally kills the blonde she mistakenly believes is her estranged husband's mistress in a case of mistaken identity.
Melanie Robinson, the vengeful redhead in question, elicits tremendous audience empathy during the play's big personal journey in the bookend opening and closing scenes.
Paula Searle impressively delineates very different roles of the caring lesbian Doctor / partner of the victim and the opportunist Russian blonde, who may, or may not, have been the husband's lover.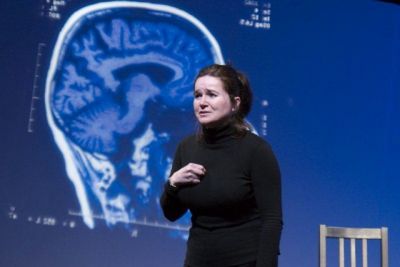 Stephen Snars covers a broad range from delightfully funny to genuine pathos as a four and a half year old boy (reminiscent of Small Poppies), before returning after intermission as an unspeakably awful adult male in denial.
Valerie Miller, great fun with good comic timing as the gossiping desperate housewife neighbour, retains her timing as old lady Joan Carlisle without convincingly portraying age.
Sue Baxter supports effectively in a series of minor roles.
The design, simplicity itself, serves the production well. Two diagonal white walls leading to a single upstage entrance (effectively used as projection surface), small hints of red, a stage platform sloped left to right, and four timber chairs, supplemented by other simple furnishings as required. It is a world slightly askew; appropriately out of balance.
Tegan Nicholls' sound design warrants a bow of its own, though I'm reluctant to spoil its impact with details.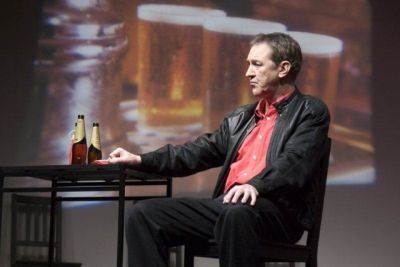 I have no qualms about splitting the roles of this monologue between four actors – in fact the addition of an older female actress might also be considered. However, the presence of other characters was only sometimes effective, and occasionally actually detracted a little.
Chester Street's enjoyable, engaging production suggests a bright and varied life for The Blonde, the Brunette and the Vengeful Redhead on community theatre stages.
Neil Litchfield
Images: Melanie Robinson (left) and Valerie Miller (right) ,Paula Searle and Stephen Snars.
To keep up with the latest news and reviews at Stage Whispers, click here to like us on Facebook, or follow us on Twitter.