Bondi Dreaming
Written and Directed by Sam Atwell. Tamarama Rock Surfers. Bondi Pavilion Sydney. November 8 to December 3, 2011.
The opening night audience enjoyed a delicious sea breeze on the balcony of the Bondi Pavilion, overlooking Australia's most famous beach. We then crammed into the theatre to watch young men locked in a cage like cell.
It gave a taste of what sense of loss a prisoner might feel in those circumstances.
In Bondi Dreaming the grim reality is seen but not spoken about. The men are on death row in a Jail (presumably Bali). While their future is bleak, instead of focussing on what is about to happen – they re-enact the past and imagine what might have been their future.
Greg Hatton as Charlie and Christian Willis as Frankie are the central characters. Both gave well crafted and dynamic performances.
The play by Sam Atwell is tight, tender and feels real.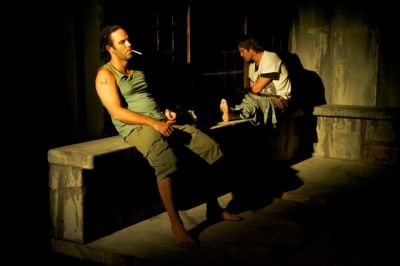 Snatches of what led them to their fate are played out. We see them at home, at the footy, exploring their sexuality and being tempted by the lure of drug money but initially rejecting it.
Interspersed with this, are video clips from friends and relatives of the prisoners, talking about them. It didn't quite gel with what was on stage. A few more facts to piece together the story might have been more satisfying.
The two men are later joined in their cell by another in-mate, Wayne Bradley as Macca.
It led to the highlight of the night – a touch of comedy. The men simulate a family road trip to Coffs Harbour.
When Macca gets tired of the game they move to extinguish any dose of reality by luring him back into the charade.
It was a nice touch to round off an engrossing night of theatre.
We left the theatre into the balmy night having been given an experience – rather than just having watched a performance.
David Spicer
To keep up with the latest news and reviews at Stage Whispers, click here to like us on Facebook, or follow us on Twitter.