Book of Days
By Langford Wilson. New Theatre, Newtown (NSW). Australian Premiere. July 8 – August 9, 2014.
New Theatre continues to impress with its choice of plays, directors, actors and designers. This production of Pulitzer Prize winner Langford Wilson's Book of Days is no exception. It is as fast-paced as the script demands, and the tight ensemble under the perceptive direction of Elsie Edgerton-Till makes this production one that shouldn't be missed.
Wilson has set his play in the town of Dublin, Missouri, where life revolves around the cheese factory, the fundamentalist church and the community theatre. Like Thornton Wilder's iconic play Our Town, this is play about a small community. Unlike Our Town, there are sinister undertones that make the play "more global in its reach" (Edgerton-Till).
It begins with book-keeper Ruth landing the title role in the local production of George Bernard Shaw's Saint Joan.When her boss, the wealthy owner of the cheese factory is violently killed, Ruth suspects foul play. Determined to uncover the truth of his death, Ruth comes into conflict with the powerful forces of money and the church, and unconsciously mirrors the character she is playing on stage.
Thus Book of Days is a "comedy, a tragedy and a murder-mystery that explores questions of morality and redemption, identity and community, and the threat posed by the religious right". Through the characters in this little country town, their present and their pasts, Wilson comments on many contemporary issues.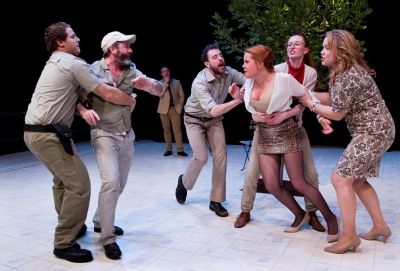 The twelve actors in this play have to be on their toes. Not only are they playing very clearly-defined and carefully crafted characters, they are on stage most of the time, watching, reacting, moving in and out of scenes and keeping the audience informed of the passage of time: days, dates and flashbacks. On the open stage, set simply with a central tree and a few chairs, they bring Wilson's characters and the issues raised to vivid life.
Kate Fraser plays Ruth. It is a demanding role that requires emotional range and energy – and Fraser plays it with great confidence and appeal. She is lithe and athletic on the stage and her physicality matches the passionate intensity she builds as she faces those who try to detract her from her determination to find truth.
Alex Norton plays her husband, Len, a country town boy who had found his niche as manager of the cheese factory, loving husband and creative cook. Both actors have created a naturalness in their on-stage relationship that makes it very believable and sincere.
As is their relationship with Norton's mother, Martha, played by Gael Ballantyne. As an ex-hippy flower child of the 60s now teaching at the local Christian college, this character brings some delightful comedy to the play and Ballantyne plays her with obvious relish and excellent timing.
Mark Langham plays Walt Bates, wealthy owner of the cheese factory, making money through deals with Kraft, but reluctantly prepared to invest in Len's experimental specialist cheeses. Langham is expansive and strong in this role finding the different layers and complications of the character.
His doting wife, Sharon, is almost, but not quite, overwhelmed by their wealth, maintaining relationships in the town, especially with the church. Jeannie Gee plays Sharon with girlish, eye-lash blinking simplicity that changes to fierce determination faced with Ruth's suggestions and accusations.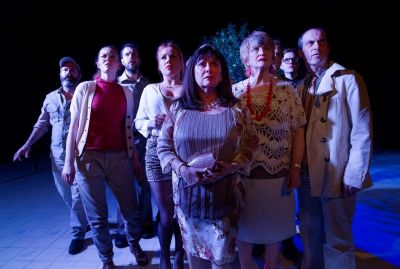 Simon Davey is their son, James, now a local lawyer, but a disappointment to his father. Davies shows all the spoilt arrogance that is built into this character through his stance, the way he holds his head, his walk. All epitomize his disdain and the contempt he feels for the community, including his long-suffering wife, Luann, played by Alyssan Russell.
Brendan Miles plays Earl Hill, shooting friend of Walt and factory employee. Miles finds the underlying frustration and the ambitious gullibility of this character, easily led and just as easily misled.
Kyle Walmsley is Reverend Booby Graves, preacher of the evangelical church and community confidant; Boyd Middleton, the 'famed' outsider imported to direct Saint Joan, is played with consummate relish and sustained energy by Geoff Sirmai; his assistant, Ginger Reed, slightly over-played by Amelia Cunningham; and Joel Spreadborough plays the almost overwhelmed character of the local sheriff.
Elsie Edgerton-Till has brought skill and freshness to this production. She has realised the universal appeal of these mid-west characters and their messages – and the sustained pace and timing that Langford Wilson's play demands.
Carol Wimmer
Images: © Bob Seary