The Book of Everything
By Richard Tulloch, adapted from the novel by Guus Kuijer. Her Majesty's Theatre, Adelaide. 17 to 27 August, 2011.
The Book Of Everything is a tale of childhood naivety and discovery. Based on Dutch author Guus Kuijer's 2004 children's novel Het boek van alle dingen, it presents the narrative of Thomas Klopper, a precocious nine (almost ten) year old living in 1950's Amsterdam.
The child of a repressed and religious family, he survives via his gloriously overactive imagination, insatiable curiosity and heart of gold.
Kuijer's award-winning story has been wonderfully adapted for the stage by Richard Tulloch, and this production is well-directed by Neil Armfield. The use of a live musician for the score always creates a more pleasurable experience. Brechtian techniques such as directly addressing the audience, references to stage direction and side-of-stage actors producing sound effects and narrative are present and effective. The interactive set, consisting of a giant working storybook of which the turned pages provide the backdrop for the play's scenes, is hugely successful; kudos to the set design of Kim Carpenter.
The cast members are each excellent in their roles, and we wish them all best for their foray into Broadway on the completion of this Australian tour.
Pip Miller nails the solemn and merciless fervor of Thomas' devoutly Christian father. Initially he rules the family with an iron fist, acting as judge, jury and executioner. As the façade crumbles during the second act, Miller reveals the character's weaknesses, expertly keeping you torn between despising his behavior and pitying his cowardice.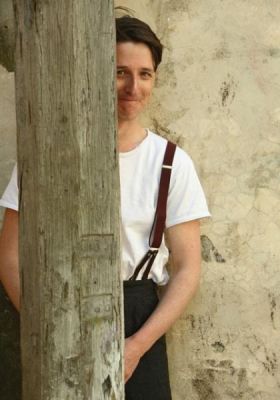 Matthew Whittet is wonderful in the main character of Thomas. He captures the childish innocence and naivety of the boy brilliantly. You quickly find yourself drawn into his world, a place where characters and fantasies are conjured from his imagination to provide escape and companionship.
The interludes between Thomas and Jesus (John Leary) are poignant and hilarious, with razor-sharp humor that will likely straddle a thin line of offence for those religiously inclined. Sitting in contrast, the tender friendship that blooms between Thomas and Eliza (Lucia Mastrantone) is gorgeous; a meeting of minds that provides Thomas with a rare source of understanding.
Julie Forsyth shone in the role of Mrs van Amersfoort, whom she possesses with complete authenticity throughout the play. Initially derided as a witch, the war widow is bullied by the children in the street until Thomas comes to her aid one day. They form a friendship that nurtures his curious nature and facilitates the conflict that brings to a head the unspoken violence within the Klopper family.
Billed as a family-oriented show suitable for ages 8 to 108, it is definitely valuable viewing, but will be challenging for conservative or unprepared parents. It explores many issues that we might normally consider "adult", but perhaps only because, as adults do, we habitually underestimate the depth of understanding children are capable of.
Domestic violence, religion, love, loss and abuse are all portrayed, but with dignity and poignancy, never for effect. Despite the sometimes-confrontational subject matter, the piece never comes across as confronting. The interactions are executed carefully and with fragility, the tensions allowed to unfold themselves gently.
Difficult themes are played out with just the right amount of humor and childish narrative to stop the play darkening too much, and this will no doubt allow it to impact upon, and find popularity with, a younger audience.
As an adult watching the piece though, this shallowness may be a source of frustration. As with all great children's books, the story is good enough to capture your interest and attention, but the hinted-at potential - it's full complexity and depth - is never realized. At this point it's worth reminding yourself of the author's intent and target audience.
This beautiful tale has much to offer, and audience members of all ages will benefit from Thomas' delightfully succinct goal for life: When I grow up, I'm going to be happy.
Nicole Russo
To keep up with the latest news and reviews at Stage Whispers, click here to like us on Facebook, or follow us on Twitter