The Boomkak Panto
By Virginia Gay. Directed by Richard Carroll and Virginia Gay. Belvoir. Nov 20 - Dec 23, 2021
Australia doesn't really get pantomime. The Christmas tradition which the poms go berserk over, gets lost in the translation when summer is too hot and sticky to lure parents to make their children spend time indoors, when they could be by the pool.
The idea behind this production was a good one. A little country town, which has a tomato sauce factory, (in homage to the Belvoir Theatre's own origins) has to put on a panto to save itself from a big bad developer.
The Boomkak Panto is a behind the scenes play within a play about amateur actors with mixed stage credentials.
Doing something badly on stage well requires a high degree of skill and this sense of fun was nicely conveyed in the opening number. The cast trooped on in glittery costumes exhausting themselves with a routine that dripped appropriate choreographic cliches.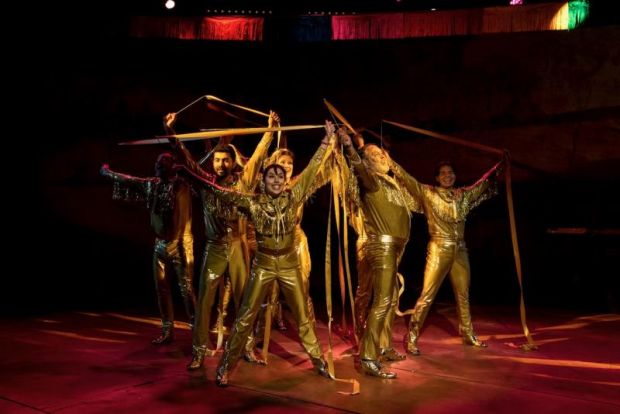 The production gained further momentum when Virginia Gay delivered a delicious soliloquy explaining vividly her terrifying experience with pantomime in the UK. This included a horror movie of second-hand smelly costumes, F grade actors, monologues that go on forever and the intrusion of unrelated vaudeville acts.
At one point the cast look at production photos of a pantomime of old and hold their noses.
Virginia's character is convinced to put on the show and the audition sequence proved a highlight. Every night a different celebrity is invited to play a cameo at the "audition" and during our performance David Campbell delighted the audience with his display of amateur theatrics.
Some aspects of traditional pantomime were included. Rob Johnson was a brilliant villain, always lifting the mood when he came into the spotlight. Toby Truslove shone as the celebrity actor retired to the country, and later the pantomime dame.
Musical highlights included flashbacks to the classic Skyhooks song Horror Movie and original music penned by Eddie Perfect, played beautifully by Iranian classical musician Hamed Sadeghi.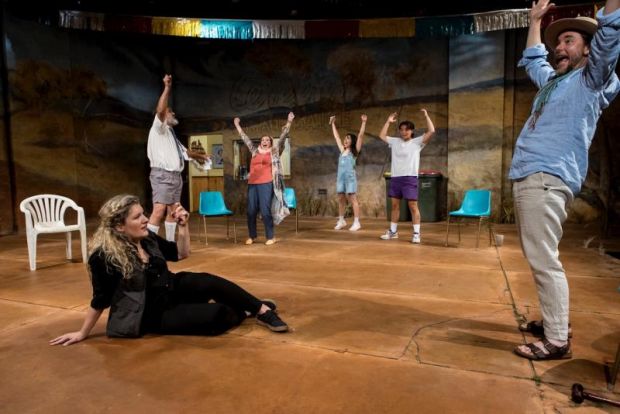 One duet however, given to two actors, was not appropriate to their vocal range, which was jarring.
A sub plot of the pantomime traversed the issue of gender identity in a relationship. This is an important issue to raise on the Australian stage but in the context of a pantomime would have been better served to have been written with more wit.
Humour is a wonderful tool to get an important message across but parts of this production were too earnest.
David Spicer
Photographer: Brett Boardman