The Boys.
By Gordon Graham. Doncaster Playhouse. PEP Productions (Vic)). Feb 15 – 23, 1013
Beware: The Boys (directed by Justin Cleaver, assisted by Lorraine Williams)is not a light-hearted night out. Advertised as MA, it contains frequent course language and strong adult themes. Said themes include: crime, ailing health, misogyny and domestic abuse.
It's an engaging – albeit, very long – script by Gordon Graham. We begin in Boganville, conveyed through dialogue like, "He kicked me… and he almost got the baby." VB cans litter the 'indoor' and 'outdoor' areas of the stage. Brett (Pete Young) has just returned home after a year in prison, and this is his story of his transition. His mother is ill, his brothers are pre-occupied with their girlfriends, and his own girlfriend is easily disappointed. The script flits back and forth between the day of Brett's release to the succeeding weeks.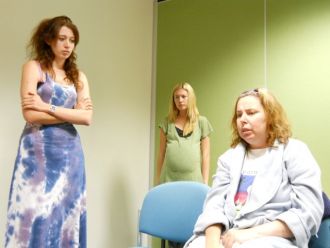 The progression of this one day is interesting. Relationships are tested, and family loyalty proves the winner. And loser. The brothers Brett, Stevie (James Robertson) and Glenn (Andrew Dodds) have a forced chemistry. They prove themselves to be unlikeable characters, prompting the audience to question the sanity of their women. Of these women, Mum Sandra (Kym Davies) is the voice of the audience, the voice of reason. Jackie (played nicely by Erin Keleher) begins as the antagonist, the culture clash, but triumphs as the hope for the future. Stephanie Morell as Michelle loves her inflections. Kate Garrard as Nola is sadly under-utilised.
It's a wordy script, and at least 20 minutes too long. The actors don't have enough stimulation through the set (designed by Amy Jenkins), and so they too often stand around looking awkward. A more considered mood-lighting design was also in order, with a recommended tip to address the buzzing coming from a light.
And yet it's interesting. Solid writing with a thoughtful structure. Audience members will walk away with insight into how the other half live, and how ignorance and lack of opportunity can impact a community. The actors handle the subject matter with conviction.
Piece of advice though: don't come late. The entry door is next to the stage.
Tammy Shmerling.