Boys of Sondheim
Music & Lyrics: Stephen Sondheim. Narrations: Anthony Nocera. Concept/Direction: Kris Stewart. Musical Director: Dominic Woodhead. Choreography: Kurt Phelan Understudy Productions & Brisbane Powerhouse. Powerhouse, Brisbane. 2-5 Feb 2017
Stephen Sondheim is a composer and lyricist who is gay but to my knowledge he has never written a song for a gay character. In the past it has been claimed by many that the character of the unmarried Bobby in Company was gay which Sondheim has always vehemently denied. So Kris Stewart's concept of looking at gay relationships through the eyes of Sondheim's songs is an interesting switch. It not only works well, but it's surprising how much of the material is applicable to same sex relationships. What's more, none of Sondheim's lyrics have been altered in the process.
Dating, sex, loving, losing and of course marriage tumble over each other in vignettes of gay life which are encapsulated in punchy narration by South Australian writer Anthony Nocera.
Stewart's directorial expertise shines through every step of the way as five young hunky guys sing, dance and strip-tease their way through more than a dozen Sondheim classics.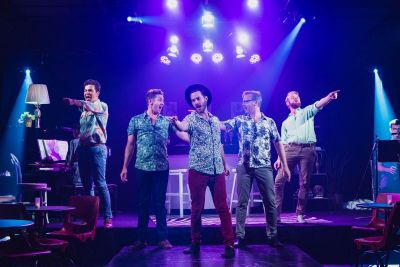 Highlights included Kurt Phelan and Alex Woodward in a tender "Unworthy of your Love" (Assassins), a bitter and bitchy "Could I Leave You" (Follies), by Stephen Hirst, and an emotional "Being Alive" (Company) from Tim Carroll. Sean Andrews did some great vocal work on "The Road You Didn't Take" (Follies), "Send in the Clowns" (a duet with Hirst), and "Sooner or Later" which also gave Phelan a chance to show off his impressive terpsichorean ability (he was after all Johnny Castle in Dirty Dancing).
With all of the guys in white dressing gowns and jocks, "You've Gotta Have a Gimmick" (Gypsy) had buckets of raunch, whilst "Getting Married Today" was a hoot with Phelan singing the soprano part falsetto, Andrews as the tenor, and Hirst as the demented bride.
Musical direction with Dominic Woodhead on piano, Michael Thrum on sax and clarinet, and Kirsten Baade on bass, was top of the scale.
At one-hour long Stewart has created an ideal cabaret show which could play any venue anywhere. It's part of the Powerhouse MELT season which celebrates Brisbane's queer communities and not to be missed!
Peter Pinne