Brand Spanking New
Various Writers. New Theatre, Newtown (NSW). Program 1 - October 27 – 30. Program 2 – November 3 to 6.
What an absolute thrill to see so much new Australian writing getting a life on stage in one evening.
And you can get that thrill twice - this week and next - in Newtown, Sydney.
At New Theatre, over the space of two weeks, and two separate programs, seventeen short Australian plays will receive a quality airing in New's third annual showcase.
While the scripts vary in quality, with some feeling like works in progress, though the best are excellent.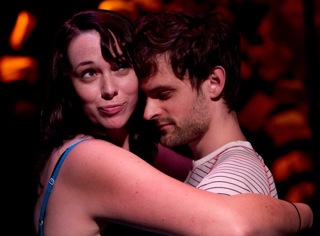 They are given a genuine chance to shine, due to the caliber of performers and directors assembled by New for this event.
I found the standard of the plays in the second week marginally more consistent than the first, though the least impressive writing of season seemed to be left for the final piece of the second program.
For an unpaid gig, too, the sheer weight of highly-trained and experienced practitioners rallying to participate is key to its success. Each performer only appeared in one play, indicating the tremendous, widespread commitment.
Week One highlights for me, where quality acting, script and direction all met were Ham and Egg by Joanna Erskine, Chicom by Kate Mulvaney, Band Practice by Fleur Beaupert and The Pash Off by Anna Lise Phillips.
My favourite? In a close run thing, perhaps Chicom - four soldiers in a war zone - which soldier has stepped on a landmine … which will explode when they remove their foot?
High among my week two highlights was Extra Curricular, delightfully performed and tightly directed, absolutely nailing a group of cheeky, delinquent high school girls confronted by unseen police about their missing friend.
Two two-handers, Apples and Onions by Alison Rooke and A Walk in the Park by Donna Abela, explored friendship engaging with wit.
Atomograd by Caleb Lewis is a dark, yet engaging comedy about the economics of nuclear fallout.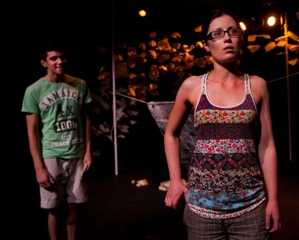 Brand Spanking New is marked by strong simple production values.
The opening sequence presents a strong sense of ensemble. Hearty congratulations to season Artistic Director Augusta Supple and all involved.
Do support New Theatre in this terrific initiative.
Neil Litchfield
Photographer: Bob Seary.