Brideshead Revisited
By Evelyn Waugh. Adapted to the stage by Roger Parsley. Directed by Rob Croser. Independent Theatre. Goodwood Theatre, Adelaide. 17-25 November, 2017.
Displaying the resourcefulness and intelligence that are hallmarks of Independent Theatre's literature adaptations, Brideshead is revisited upon us in the form of a stage version that seems certain to satisfy fans of the source material, though it may strike newcomers and/or agnostics as a period piece that does not quite break out of its time or place to become as relevant for modern viewers as it would like to be.
With a running time of approximately two-and-three-quarter hours (minus interval), this production stands as a gallant try at covering as many of the novel's people and places as possible in the time (and with the means) available. It never gets bogged down; indeed, it fairly zips by – but you may find yourself wishing there was the opportunity to get to know these characters and their lives (both social and interior) in greater depth than what is offered here.
Those (including this reviewer) who have not been either raised in or converted to the Catholic Church might find difficulty in getting fully on board with certain aspects of Evelyn Waugh's story and the feelings that his characters express or struggle with. That being said, the generally very-high standard of ensemble acting makes it mostly a pleasure to try.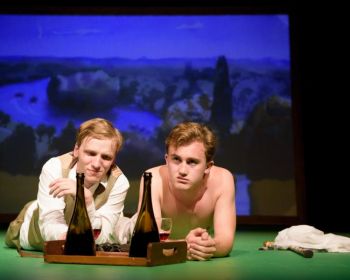 Will Cox is reliably commanding, charismatic, and confident playing narrator Charles Ryder, while the all-important second lead role of Sebastian Flyte is superbly filled by Ben Francis. As the only other cast member not to be portraying more than one part, Madeleine Herd feels comparatively underutilised but manages to bring shadings of complexity and intrigue to the character of Julia Flyte.
This is easily some of the best acting from David Roach in recent times, while Paul Reichstein practically saunters off with the entire show under his arm. The ensemble is capably rounded out by Lyn Wilson, Emily Stewart, and Brodie Watson-Victory, all of whom contribute their own memorable idiosyncrasies to the proceedings.
Set design is a typically striking concept from Roach and Croser, complemented exquisitely by the lighting of Bob Weatherly; costumes are similarly top-notch. Such high-grade production values, combined with accomplished acting, mean that - regardless of one's personal connection to the text of Brideshead Revisited – there is enough quality here, to look at and listen to, for almost anyone to appreciate.
Anthony Vawser
Photographer: Oliver Toth