The Bridges of Madison County
Book by Marsha Norman. Music and Lyrics by Jason Robert Brown. Based on the novel by Robert James Waller. Hayes Theatre Company. Directed by Neil Gooding. March 6 – April 5, 2020
This musical is like a good slow cooking recipe. You add all the ingredients, leave it in a pot and come back hours later, where the lamb is falling off the bone. Many aspects of the production are very tasty. The music by Jason Robert Brown has a mixture of folk, country, pop and operatic influences. It's easy to see why It won Tony Awards in 2014 for its score and orchestrations. The five piece ensemble assembled for the production by Musical Director Geoffrey Castles allowed the musical juices to stew sumptuously, as the temperature on stage heated up.
Set in Iowa in 1965, the central romance is between a (previously) devoted housewife Francesca (Kate Maree Hoolihan) and a roaming National Geographic photographer Robert (Ian Stenlake). He turns up at her door for directions when her husband and two quarrelling children are away for four days.
Robert keeps offering to leave her alone but there is something magnetic in their attraction. The chemistry between them is beautifully crafted, reaching a crescendo with soaring arias from Francesca – enough to fill the whole kitchen with steam.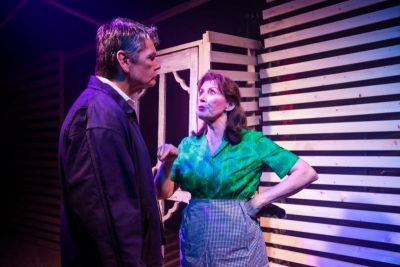 The narrative roams between a small house, the inside of a moving truck and of course the picturesque bridges of Madison County. The Hayes Theatre's reputation for gorgeous and clever sets is further enhanced with this design from James Browne. With a twirl of shutters it transforms from a 1960's kitchen to a dusty road in picturesque farm country.
The central characters are ably supported by a fine ensemble. The role of nosey neighbour Marge is played with fabulous humour by Beth Daly. One of the funniest scenes in the musical is where she discusses with her very droll husband Charlie (Michael Beckley) what he would do if she had an affair (seems he has it all worked out).
Playing Francesca's husband "Bud" very sympathetically was Anton Berezin. You feel sorry for him keeping a lid on his boisterous children Carolyn (Zoe Ioannou) and Michael (Grady Swithenbank).
Overall this is an Art House musical which is enhanced by being able to watch it in the intimate 111 seat theatre. However, it is on the long side – some in the audience felt it a little overcooked – which is no reflection on this production, but an aspect that was also noted by critics at its Broadway premiere.
David Spicer
Photographer: Grant Leslie