Brief Encounter
By Noël Coward. Kneehigh Theatre. Dunstan Playhouse, Adelaide Festival Centre. September 10 – 28, 2013. Melbourne Festival season, Athenaeum Theatre, Melbourne - October 9 – 27; The Concourse, Chatswood (NSW) - November 1 - 19, then touring (dates at end of review).
Oh how I wish Noël Coward could pop back to earth from whatever star in which he is floating to see this amazing production of his beautiful play! And how I wish I had the time and the words to do it justice!
Emma Rice and Kneehigh Productions have been true to everything that is 'Coward' about the original play – its beautiful dialogue, its heart-breaking messages, its very 1940s English characters and setting. They have been similarly true to the iconic fame of the 1945 film. But they have also been true to contemporary theatre: embracing technical effects; eclectically (and very effectively) mixing styles and forms; using quirky, comic ideas and choreography; all of this accompanied by creative arrangements and interpretations of Coward's music played by a small, talented band of musicians who are always, surreptitiously, part of the action, quietly backing poignant moments or cheerily accompanying a ditsy dance interlude.
There is nothing about this production that Noël Coward would not have loved. As he himself embraced the changing styles and emerging technical effects of his time, so Rice and her team have taken what is, it's true, a love story of times past, and made its many enduring messages pertinent to contemporary, techno-hungry, 'go-on-try-and-surprise-us!' audiences. And surprise us they have!
There are so many surprises and creative effects in this production that it is easy to miss one while marveling at another! Even before the play opens, the musicians and some actors, in period railway/theatre ushers uniforms, serenade the audience, eventually taking the stage as the house lights fade in a cute song and dance routine that, while introducing the play, admonishes the use of "technical devices". As the lights fade completely, they use three torches to illuminate two seats in the front row where Alec and Laura have been sitting. As she moves away from him up through the theatre, their impassioned declarations of love, lit only by the torches, at once make the audience an immediate part of their heart-break, and of the production itself.
The torches go out and the curtain rises to a screen on which the scratchy, black and white introductory titles of the 1945 film starring Celia Johnson and Trevor Howard are projected. But it is no ordinary screen. As the film begins with its iconic scene of a train moving away from the station, Alec moves from the audience onto the stage, stands in front of the screen, then moves through it onto the train and, miraculously, appears, on film, waving through a window! What a beginning! What imagination and direction! And it doesn't stop there! There are a plethora of equally creative moments and surprises.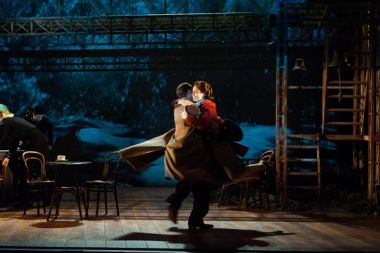 The set itself, for example. Scaffolding represents the railway station, its stairways and platforms, as well as, at other times, the upstairs of Laura's home or Alec's friend's flat where he and Laura sometimes meet. The counter of the railway refreshment room is the top of an upright piano, which also provides quiet and very poignant backing music to scenes where Coward's beautiful, emotive dialogue is delivered crisply, intensely and heart-breakingly. Other props and furniture are moved on and off seamlessly by cast members. The heaviest and most effective of these, two old leather armchairs, are, cunningly, attached to trolleys, the handles visible above the backs of the chairs, making them easy and quick to move on and off the stage.
Behind the set a huge backdrop depicts projections: the railways station itself; the 'express' that passes through, (causing everything and everyone of stage to shake!); the Cornwall coast where Laura grew up, its waves crashing against the rocky shore; and Laura and Alec on a row boat in an idyllic, stolen moment. These are augmented by subtle, sometimes hazy, lighting that enhances the mood and pinpoints moments of intense emotion.
The colours of the costumes and set meld. Pervading shades of brown, grey and black hark back to the period and to the old movie, are picked out by small splashes of brighter colours – a green teapot cover, a red and white striped vest, red shoes, a mustardy-yellow coat. There has been meticulous attention to detail and effect here as in every other aspect of the production.
The cast is a tight-knit ensemble. Their characterisation – in every role they play, and some play multiple roles – is appealing and very real. All but two members of the cast are part of the original production, but the parts of Laura and Beryl, the saucy young refreshment room assistant, are played by Australians, Michelle Nightingale and Kate Cheel, both South Australians who won the roles in local auditions, learnt the script here and flew to England for two weeks of intensive rehearsals before beginning this tour (click here to read our interview with Nightingale). Both are exemplary in their depictions. Nightingale finds the emotional turmoil of Laura's illicit love affair, the joy, the passion, the longing … the guilt … in a depiction that is intensely gentle and really of the time. Cheel revels in Beryl's cheekiness, her kinky choreography and her flirty relationship with Stanley. She is equally good as she doubles as a haughty waitress and a disdainful friend.
Alec is played with perfect Coward-like educated crispness by Jim Sturgeon. He mixes the sustained emotion expected of this character with beautifully articulated delivery and artful action – then shows his versatility as he doubles as a stroppy soldier throwing his weight around when he's refused a drink out of hours.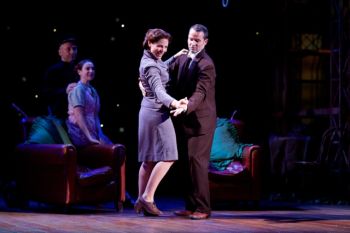 Together, Sturgeon and Nightingale recreate every romantic aspect of the original play and the much-loved movie – but they make it their very own under Rice's very detailed, sensitive direction.
The other lovers in the play deserve equally enthusiastic mention! Annette McLaughlin is Myrtle, proprietress of the refreshment room and erstwhile lover of station-master Fred, played by Joe Alessi (who also doubles as Laura's steady, pedestrian husband, Albert, another stroppy soldier, and Steve, Alec's friend who surprises them using his flat!).
As Myrtle, McLaughlin is stunning. She has incredible stage presence and audience appeal, a strong and beautiful voice, fluid dance movements and very exacting comedic timing. Whether chiding Beryl, flirting with Fred, sneaking saucy asides to the audience (or offering them buns or popcorn), or silently watching the love story that is being played out at her table, McLaughlin is in character every moment, clearly defined, alternatively bossy, understanding, fun-loving but always strong.
No review should under-rate the contribution made to the production by Damon Daunno. With the other musicians, Dave Brown and James Gow, he provides the constant, filmic musical 'soundtrack' of the play, playing double bass and ukulele with equally fine touch. He also plays Stanley, the station 'lolly boy', boyfriend of Beryl. As such he is constantly on the move, funny, flirtatious, cheeky. When he sings, however, his real feel for mood and timing are accentuated. He and Cheel do a cutesy performance of Mad About the Boy, but it is his carefully timed and soulful performance of Go Slow, Johnny behind Alec and Laura's long love scenes that is almost breath-taking. What a talented man!
How lucky we are to have Kneehigh productions in Australia on tour once again! They bring a breath of fresh creative theatrical air to our, dare I say, sometimes stuffy Australian stages. And what a wonderful venue for such a production! The new Concourse theatre is a real asset to the Sydney theatre scene – a capacious yet well contained stage with high flies, good sight lines on a great rake, comfortable seats, easy parking – and a management team that seems to be very much aware of the possibilities of this lovely new venue.
Carol Wimmer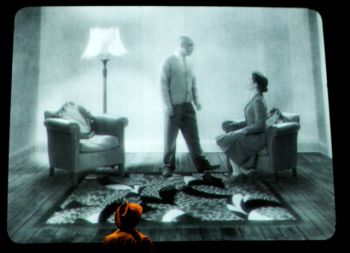 Coral Drouyn also reviewed Brief Encounter durng its Melbourne season
We are swamped with love stories; inundated with professed entertainment; jaded by what passes as true love but is most probably sex. We assign romantic love to cartoons, or other worlds, for it has no practical place in our lives. We forget the magic, the mysticism, the breathless swooning of drowning in love, perhaps unwilling to accept such loss of power in a society where power and money battle to be top dog.
And then along comes an astonishing Cornish theatre company, Kneehigh, with the remarkable director Emma Rice, to bring us Brief Encounter, based on Noël Coward's somewhat trite and contrived one act play Still Life and his screenplay for the David Lean film. All at once long forgotten words dance on our lips; words like enchanting, magical, precious, cherished, ethereal, charming. Brief Encounter is all those things and more; for it does what theatre should always do, but rarely does. It takes us from our seat in the audience and transports us to another time and place, and it makes us believe that we belong there, that we too are a part of that world. That, I think, is the most special theatrical experience we can have.
Briefly the story is of a middle class, decent, couple whose love is so intense that they swoon from it, and are helpless against it. And yet it can never be fulfilled, for both are married to other people, and in stoic England of 1938, prosaic duty and familial responsibility are far more important than the dizzy intoxication of feeling yourself swept up in a maelstrom of emotion. And so love loses to practicality, as it so often does in "real" life; for who amongst us isn't afraid to surrender totally to that unknown which renders us poweless?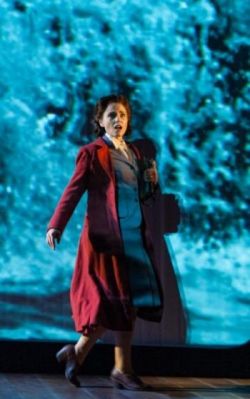 I'm sorry if this sounds incurably romantic and poetic, but that's the effect this show will have on you…and that is why you MUST see it. (There were some empty seats on opening night….how can that possibly be?)
Rice is ridiculously gifted, as is Designer Neil Murray; the set and Malcolm Rippeth's lighting design will take your breath away. Stu Barker's original music melded with Coward's original songs is seamless and perfect; and the projection and film component are transporting.
Rice's vision is beyond imagination and almost mystical. The image of a newspaper blowing down the platform is iconic in the film, but given another layer live on stage. The realisation of Lean's cinematic vision is enhanced rather than diminished. And, far from being cloying or over romantic, this is a funny show. Whilst Alec (Jim Sturgeon) and Laura (Michelle Nightingale) are beautifully and tragically breaking each other's hearts, our tears are tempered with laughter.
Joe Alessi and Annette McLaughlin – both from the London and New York productions – are show stoppers, quite literally, and simply fabulous in their roles of Fred (doubling as Laura's husband Albert) and Myrtle. Kate Cheel is delightful as the blossoming Beryl, Damon Daunno is perfect as Stanley the platform refreshment seller, and his voice is superb, particularly in "Go Slowly Johhny" which underscores the would-be love scene. Nightingale is wonderfully stitched up as the wife who cannot allow passion to prevent her from doing the "right thing", to the point where she becomes almost neurotic. Sturgeon is charming, all confusion in this thwarted affair. The additional musicians are excellent.
And then there's Rachmaninoff…dark bitter chocolate against Tschaikovsky's sickly milk variety. I realised last night that the Film Brief encounter, which I saw in a rerun nearly sixty years ago (I was 9) is the reason I have loved Rachmaninoff all my life. Rice and Barker use the music, and the crashing waves (plus the winds of love literally blowing the lovers off balance) not as cliches but as the overblown truth of love's power.
Those under thirty might find the overt romanticism cheesy or excessive. That's a fault of youth. I don't want to disclose the marvellous creations this production has to offer. They are special to every audience member. But even the most jaded among us will be moved and, short of mortgaging your house to do so, there is no acceptable reason, as theatre lovers, not to see this wonderful gift.
Coral Drouyn
Click here to read Coral Drouyn's interview with Michelle Nightingale.
Robert Dustan reviewed Brief Encounter during it's Adelaide season.
Cornwall's Kneehigh Theatre have been invited to tour Australia by Arts Project Australia and, in conjunction with State Theatre Company of South Australia, are currently presenting their hit show, Brief Encounter, in Adelaide before it tours the remainder of the country.
Based on Noël Coward's one-act play, Still Life,that was later turned into the iconic film under the name Brief Encounter, this production has been adapted by the Kneehigh's Emma Rice as a multi-media event featuring live actors, musicians, film footage and puppets (as two children) as well as a toy train.
The cast features seven overseas actors and musicians, including American Jim Sturgeon making his debut with the company as Alec, alongside Adelaide-based actors Michelle Nightingale (as Laura) and Kate Cheel.
As the audience drift into the auditorium they are greeted by most of the cast members dressed as old-style ushers who are either guiding patrons to their seats using vintage torches or playing music on a variety of instruments. This aspect really sets the mood for what proves to be a highly enjoyable 140 minutes of theatre.
The actors, with several playing a variety of roles, also provide some well-timed slapstick and nine musical numbers from NoëlCoward's pen add frivolity to what is the cheerless tale of an unhappily married woman (Laura) falling for a married man (Alec). Due to the conservative times, however, they are unable to do much about it. Cabaret singer Michelle Nightingale is remarkable as Laura in what is her first major stage role, while the seasoned overseas actors also acquit themselves well. The use of film is also very cleverly done – actors interact with those on screen and then step into the film – and its use makes for a quite remarkable production. Neil Murray's clever set evokes a railway station café that can quickly be turned into Laura's sitting room.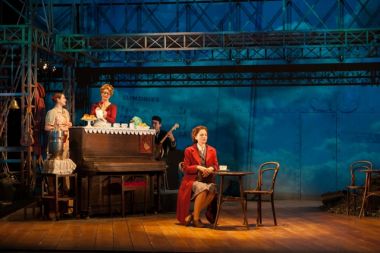 Those expecting an exact remake of the Brief Encounter film may be a little disappointed, but will certainly be rewarded with an exceptionally engaging piece of theatre. It's also one of the few plays I have seen during which the audience claps after a well-executed scene.
Don't miss Brief Encounter during its Australian run even if the sight of Alec continually placing his hat on the floor makes you wince slightly. Well, it did me.
Robert Dunstan
Images: (except for bottom image) Michelle Nightingale as Laura and Jim Sturgeon as Alec & (lower) Kate Cheel as Beryl, Annette McLaughlin as Myrtle, Dave Brown (musician at back) and Michelle Nightingale as Laura.
Tour Dates
Canberra Theatre Centre, ACT, Wednesday October 3 until Saturday October 5
Athenauem, Melbourne, Wednesday October 9 until Sunday October 27
The Concourse, Sydney, Friday November 1 until Sunday November 19
Illawarra Performing Arts Centre, Illawarra, Wednesday November 20 until Saturday November 23.
The Regal, Perth, Thursday November 28 until Sunday December 1