The Bugalugs Bum Thief
Director: Noriko Nishimoto. Spare Parts Puppet Theatre, Fremantle WA. July 6-20, 2013.
"If you don't have a bum you can't sit down!
"If you don't have a bum your pants will fall down!
"How can you save a bumless town?"
The Bugalugs Bum Thief is a Spare Parts favourite that has returned to bring joy to old and new audiences.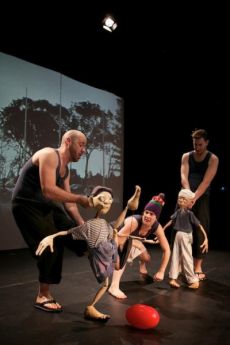 Opening day patrons, especially those in the target age range of 4 to 12 years, giggled at the gorgeously silly concept and the occasionally little-bit-naughty dialogue. (It uses words like bum, rear, bottom and derriere!) Tim Winton's children's book is brought beautifully to the stage by director Noriko Nishimoto and her team.
The puppetry is both clever and beautiful and its periodic ethereal moments are a stark contrast to this fabulously silly play.
The only set is a series of black and white photographical backdrops that vary between gorgeous nature shots and humorous comedy pics. (A photo-composite of Kevin Rudd and Tony Abbot inspecting used bottoms at a swap meet was a favourite - even with little people).
The performers were St John Cowcher, who played a myriad of roles and held up leading puppet Skeeta Anderson as he performed, Michael Barlow who helped create Skeeta's best friend and his slightly frightening mother and Jessica Lewis who played a seagull, a pantless footy coach and many things in between. The trio worked comfortably together with excellent timing and seamless puppeteering skills.
This production has not lost any of its magic in the years since its first showing and remains an excellent choice for school holiday entertainment.
Kimberley Shaw
Photographer: Jarrad Seng