A Bunch of Amateurs
By Ian Hislop and Nick Newman. Red Phoenix Theatre. Holden St Theatres. May 23- June 1 2019
Red Phoenix's latest play A Bunch of Amateurs is a must see piece of theatre. This troupe are far from amateur and deliver the sharp, witty lines with skill and perfect timing. The piece, written by Ian Hislop and Nick Newman was originally conceived of as a film, starring Burt Reynolds, Derek Jacobi and Imelda Staunton.
A Bunch of Amateurs is about a village drama group in Stratford St John in Suffolk, who, facing financial issues, seek an unusual solution.
Whilst being a clever, comedic play, there is poignancy in its analysis of amateur theatre. The lead character brashly asks the gentle company members "Why do you do it?" The reply comes from Mary Plunkett, the most enthusiastic, yet timid member of the troupe: "To step outside our own ordinary lives, to create something bigger than ourselves…to share in the power of theatre." As a performer in amateur theatre myself who is frequently asked this question, this resonated.
Michael Eustice is to be lauded for assembling a stellar cast. His direction of this fast-paced comedy is impeccable and uses the theatre space extremely well.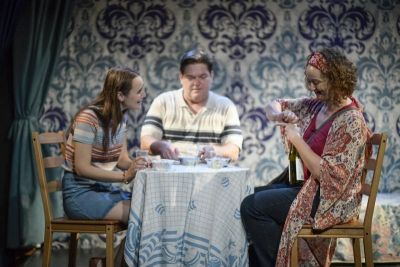 The story is clever. The amateur Stratford theatre company's director (Petra Schulenberg) decides that their only hope for success is to cast a celebrity in their final production of King Lear. Much to the group's surprise and delight, a waning Hollywood actor well known for action movies, Jefferson Steel (Brant Eustice) accepts the role of King Lear. He arrives, expecting to be acting with the likes of Dame Judy Dench and Kenneth Branagh, only to find his agent has confused his Stratfords! Tantrums and petulance explode from Steel, who is NOT happy this is not the RSC. His diva-esque behaviours and demands make excellent comment on Hollywood and celebrity, in stark contrast to the unassuming villagers who, like all amateurs "do it for the love".
Brant Eustice is well known for his fine performances, but this one is a standout. He commands the stage from the moment he steps in front of the waiting paparazzi at 'Heathrow'. We are entranced and horrified by his brashness initially, but come to understand his plight as an aging Hollywood 'has been'. His physicality and comic timing are excellent and Eustice has great skill in building subtle elements into a character that could easily be overplayed.
As Dorothy, Petra Schulenberg is wonderful. Resplendent in hippy- style clothing, one could initially presume she would be a walk-over for Steel. He meets his match in her authoritative leadership. Schulenberg plays this character with charm and softness but it is evident that Dorothy is an intelligent, strong woman who will move heaven and earth to save the company. A beautiful performance.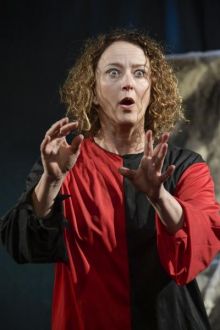 Tracey Walker plays the role of Mary Plunkett, the spinster-owner of the local B and B who is an extremely enthusiastic member of the company and an overtly adoring fan of Steel. Her 'moments' where she comments on all the movies she wrongly believes Steel was in- "I loved you in Raiders of the Lost Ark"- are side splitting. Walker has impeccable comic timing and is incredibly watchable. Her ability to contrast timidity and softness with fan girl outbursts and at one part of the play, disgusted anger, are outstanding.
Lindsay Dunn, a seasoned Adelaide performer, is delightful as the annoyingly pompous Nigel Dewberry. Nigel is used to being the 'lead' in the Stratford Players productions and Dunn brings out with skill and great physical humour Nigel's resentment of the Hollywood star who has usurped his prime position. Dunn's facial expressions alone are worth the ticket price!
Laura Antoniazzi plays Steel's neglected daughter who arrives in town to spend time with her father. Antoniazzi's Jessica is feisty and strong and through fine acting Antoniazzi adeptly shows the underlying love Jessica has for her father. Dennis Dobbins is ably played by Derek Crawford. As the all-round handyman, actor and self-proclaimed 'entourage' of Steel, Dennis has some wonderfully funny moments in the play. Crawford's comedy in his many suggestions for portraying the scene in which Gloucester's eyes are gouged out are hilarious. Cheryl Douglas is lovely as Lauren Bell, the wife of the troupe's sponsor. She has some great stage moments- particularly one involving her physiotherapy skills. A strong performance.
The cast is rounded out well by Anthony Vawser, Anita Zamberlan Canala and Niche Faith who are the ever present, irritating paparazzi. They make small roles strong and watchable.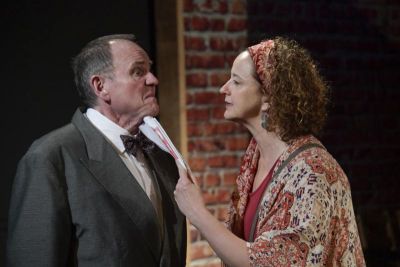 The set for this play, by Kate Prescott, is simple but excellent- the use of a wooden frame is a great nod to Elizabethan staging and creating two zones in one space is very clever. Also building into the set a sprinkler system that works is no mean feat! Lighting by Richard Parkhill, as always, is clever and costuming of the players is quite reminiscent of the Vicar of Dibley and very appropriate. The use of Elizabethan-style singing by various cast members in scene changes is also a wonderful touch.
I believe one of the cleverest aspects of this play, aside from the outstanding acting and direction, is the script itself. There are so many wonderful lines but also its ability to parallel the actual story of King Lear is intriguing. Some examples are direct parallels with the poisoning of Goneril to Jessica's onstage anaphylactic attack and Steel's 'explosion' when smoking and being rained on by the sprinkler system, mirroring Lear's rage in the storm. Extremely clever writing.
A Bunch of Amateurs is a great night out. You will split your sides laughing and be treated to performances by some of Adelaide's finest talent. Buy a ticket fast!
Shelley Hampton