Bye Bye Birdie
Music: Charles Strouse. Lyrics: Lee Adams. Book: Michael Stewart. Harvest Rain Production. Director: Tim O'Connor. Choreographer: Callum Mansfield. Powerhouse, Brisbane, 29 Nov - 8 Dec, 2012
Bye Bye Birdie by Harvest Rain's first and second year interns was a funny and enjoyable production of the classic Broadway musical.
Michael Stewart's book for this social satire of the sixties, teenagers, rock 'n' roll, and mother issues, is surprisingly still relevant, and Strouse and Adams' score still bursts with vitality 50 years after it was written
David Lawrence's production design went for the bright vivid color look of the movie and today's male fashion of tight trousers and pointy-toed shoes were a good double for the stovepipes and winklepickers of the era.
Callan Warner was a likeable songwriting-manager Albert, with Casey McCollow a believable 'Spanish Spitfire" Rose. Warner's "Put On a Happy Face" was infectious, while McCollow's "An English Teacher" set the scene well.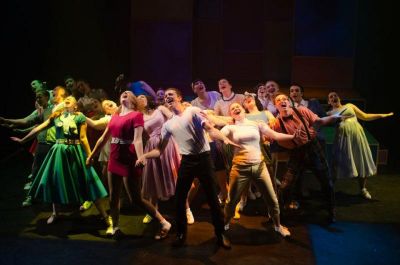 Of course in a production by interns when the young cast have to play older characters, there is inevitably a lot of caricature, but this musical more than most can handle it, being satire-based. Good examples were Cameron Rollo as the father who was a hoot, as was Erika Naddei as Albert's mother Mae. Danny Lazar made a good pelvis-swivelling Conrad Birdie, Lauren Heidecker hit the right notes as Sweet Apple, Ohio, teenager Kim, but it was Morgan Kempster as the high-pitched screaming Ursula who won the applause.
Tim O'Connor's direction was fast and pacy, with Callum Mansfield's choreography effective in its approximation of 60s dance styles. O'Connor made good use of his chorus of over 30 people, which brought a fresh adolescent lift to "The Telephone Hour", "Honestly Sincere" and "A Lot Of Livin' To Do".
Peter Pinne
Images: Callan Warner as Albert Peterson with ensemble and Danny Lazar as Conrad Birdie with ensemble.