CABARET
Music: John Kander. Lyrics: Fred Ebb. Queensland Musical Theatre. Director: Deian Ping. Musical Director: Ben Murray. Choreographer: Roxanne Harding. Twelfth Night Theatre, Brisbane, 3 – 13 November, 2010
Queensland Musical Theatre's production of Kander and Ebb's classic musical Cabaret, set in Berlin at the dawn of the Nazi era in the thirties, is enjoyable theatre on many levels.
Firstly was Tye Sheperd's standout turn as the Emcee. Strutting lasciviously, and with each line delivered with a knowing wink, he embodied the part with decadence. I have rarely seen this young performer give a better performance. And his vocals were fabulous, likewise Ros Booth as Fraulein Schneider who captured the inner turmoil of this stoic, pragmatic woman with skill.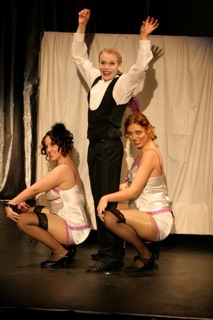 Natasha York sang the heart out of Sally Bowles, and she's got some great songs to sing in this legendary score, but her reading of the character failed to show the fragility of the girl underneath the outward bravado.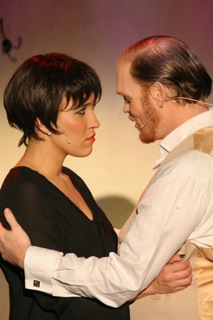 James Lever as Cliff also delivered a wonderful vocal performance. His "Don't Go," a new song not in the original Broadway score or movie was particularly good.
The Kit Kat Club girls and boys were shapely, buxom and buffed in their well-drilled chorus work. Roxanne Harding's dance routines were a big plus in Deian Ping's production which made full use of the technical facilities of the theatre.
Costumes were colorful, the sets simple, and the on-stage orchestra under Ben Murray sounded at times just like what one would hear in a German beer hall of the period. This Cabaret was well worth a visit.
Peter Pinne