Cabaret
By John Kander & Fred Ebb. Zen Zen Physical Theatre, QPAC, PowerArts Production. Cremorne Theatre, QPAC. Director: Lynne Bradley. Musical Director: John Rodgers. Choreographer: Martyn Flemming. 4-20 August 2011.
Watching Zen Zen's production of Cabaret I kept wishing Kander and Ebb had made it shorter. One hour and forty minutes for a first act was way too long.
This was a production that used color-blind casting (Herr Schultz was played by an Asian performer), the all male orchestra were dressed in female attire, the Kit Kat Club boys and girls looked androgynous, and there was lots of same-sex coupling. The costumes were skimpy, showed a lot of flesh, and although sex was simulated a lot, there was nothing sexy about it, likewise the choreography which was of the pelvis thrusting type.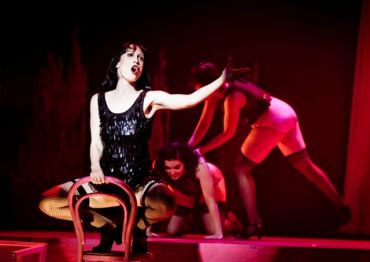 Matthew Hadgraft was a believable Cliff Bradshaw, and Emma Dean a convincingly English Sally Bowles - pitch perfect, she turns the show's title tune into the showstopping number it is. Sandro Colarelli played the M.C. like an arch drag queen. There was no fun in his performance, but Jillian Geuts's Fraulein Schneider hit all the right buttons.
Best thing about the production was John Rodgers and his group of musicians who gave a jazz edge to the score.
Peter Pinne
Images: (from top) Sandro Colarelli, Emma Dean Photographer: Justine Walpole.
To keep up with the latest news and reviews at Stage Whispers, click here to like us on Facebook, or follow us on Twitter