Calendar Girls
By Tim Firth. Epicentre Theatre Company. Zenith Theatre Chatswood, NSW. October 11 – 19, 2013.
Crossing boundaries for friendship and stepping way outside their comfort zones, a group of women from the usually sedate Women's Institute (the British equivalent of CWA or similar women's clubs or auxiliaries) pose for a nude calendar to raise funds for a sofa in cancer ward after the death of one of their husbands from Leukaemia.
Based on a real-life story, the joy of Calendar Girls is the gentle true-to-life humour, mingled with credible human tragedy, when, as is the case in Epicentre's production, a delightful ensemble of women have clearly found a chemistry and rapport during rehearsals which overflows into the production, ensuring the friendships, banter and camaraderie of the script are equally genuine, supportive, natural and palpable on stage.
The first act is mostly bright and joyful, the second a little darker and more confronting, with friendships challenged, but the contrasting spheres of the journey engage throughout.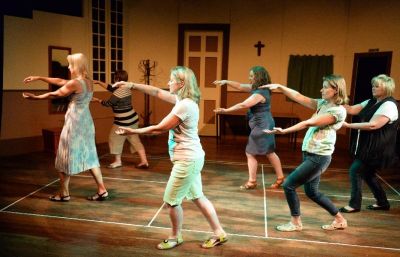 Such a joyous ensemble effort is this Calendar Girls, that I'm not even going to attempt to find the distinguishing adjectives for individual performances, or single out the contribution of one performer above the others.
This cast carries off the various characters' embarrassments, personal quirks and misgivings associated with getting their gear off with absolute aplomb, while never betraying any personal embarrassment, and it's all executed with the utmost taste, and clever manipulation of props.
Good supporting performers, too, from the cast members who keep their clothes on, notably the WI President and the dying husband, very believable as his disease progresses.
The setting splendidly evokes an older country church hall.
My only real point of criticism is the use of a projector straight in the eyes of the audience. I was just one of many covering my eyes, and missing this scene. Surely a better angle could have been achieved.
Enjoyable community theatre, warmly recommended.
Neil Litchfield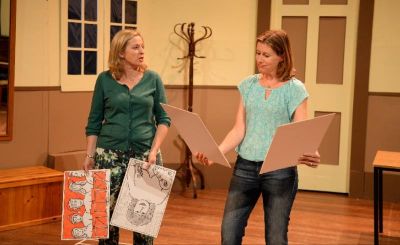 Cast: Annabel Cotton, Christine Firkin, Carol Keeble, Wendy Morton, Melanie Robinson, Prudence Robinson, Donna Sizer, Sandy Velini, Linda Young, Tim Bate, Nick Bolton and Mark O'Connor.
Director / Set Designer: Belinda Clark
Lighting Design: Andy Weston
Costume Design: Margaret Olive
Sound design: George Cartledge
Props: Mary Bentley & Belinda Clark
Photographer: Chris Lundie
Interview with Tim Firth at the time of the original Australian production