Caligula
By Albert Camus. A new translation by David Greig. Red Phoenix Theatre. Holden Street Theatres. May 24-June 2, 2018.
Few of us could ever imagine philosophy might prevail in a meeting between Roman Emperor Caligula and his Senators, but instead we'd almost certainly expect mindless depravity, decadent sex and gruesome violence to be high on the agenda. The 1979 Penthouse Magazine/Bob Guccione movie starring Malcolm McDowell has fostered that enduring impression, but the savagely funny and playful David Greig translation of Albert Camus' 1940's play Caligula looks at the notorious Emperor through a very different prism. In this play philosophical theory, albeit rampantly off-the-wall in tone, is presented as at the essence of Caligula's madness.
Roman Senators are on edge because young Roman Emperor, Caligula has been missing for some days following the death of his sister, with whom he has had an incestuous relationship. To the Senators' initial bemusement and for some, eventual deadly cost, he returns having experienced not so much overwhelming grief, but an existentialist conversion. He espouses his latest theory, that life has no meaning and therefore death is equally meaningless. He intends to teach his subjects the gruesome extension of this, that no action can be better or worse than another. In short, anything goes, no matter how ghastly …so long as it is an action performed by him. His narcissism runs rampant as he also sets out on a quest to make love to his professed ultimate sexual conquest, the moon.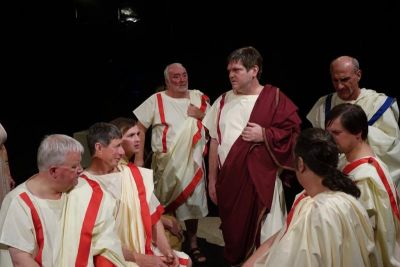 Director Michael Eustice states in the program for Red Phoenix Theatre's Adelaide Premiere of Caligula that he has approached the play "from the thesis that Camus believed that by understanding the mind of Caligula, one of history's most notoriously mad and brutal Roman Emperors…then surely we can begin to understand Hitler and Mussolini and by understanding them learn to overcome them." It is an unsettling and riveting premise.
The set is minimalist, with some Roman arches depicted on the walls and a reflective, shiny backdrop representing the water in which Caligula is said to have constantly admired himself. There are a number of 'platforms', including white cubes that are moved about as seats. Additional backdrops are brought in and hung and removed by cast during the narrative.
Any successful production of Caligula must surely rely on the casting of the title role. Red Phoenix Theatre has come up trumps and then some with Robert Bell. This young actor embodies the role. His rather angelic face and his character's initial 'lost soul' persona deceptively mask what simmers beneath in the character. That icily monstrous entity bares its murderous teeth in Bell's interpretation as the play unfolds. In a controlled and towering performance, Bell produces a sometimes oddly playful but always calculating control freak who can see reason in the most horrendous of his demented deeds, including gruesome murder and rape. With his subjects very aware that their master has no intrinsic empathy for anyone, including those closest to him, Caligula strikes fear and submission in everyone, no matter their rank… and Bell creates the atmosphere for this powerless terror superbly. His brilliant performance in the scenes in which Caligula dresses in female attire and puts on a theatrical show for the Senators is at once funny and unsettling.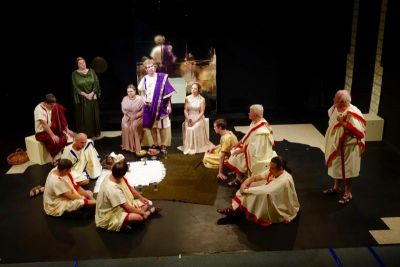 The Senators are generally painted in quite broad and darkly comic strokes and are played very well by fine actors including David Grybowski, Malcolm Walton, David Lockwood, Adrian Barnes, Joshua Coldwell, John Rosen, Brant Eustice and Mark Mulders. Some among the Senators have been given greater emphasis by the playwright than others, however. Notable among them is calmly rational Cherea, played superbly by Brant Eustice who epitomises a man trying to provide leadership and rational arguments when panicked plotting occurs among the group. David Grybowski is compelling as Metellus, Adrian Barnes says much with body language as Mereia and John Rosen is very good as Mucius. Mark Mulders is wonderful in a nuanced and layered performance as the conflicted Scipio. His scene alone with Caligula when he realises the Emperor is toying with him is terrific.
Tracey Walker produces an excellent performance as Helicon, a former slave set free by Caligula, only to support him in his reign of terror. Lyn Wilson as Caligula's older lover Caesonia is also very good. Each actor nails her character's motivation of self-preservation through ruthless deeds. Ruby Faith is good in her dual roles as the mutely terrified wife of Mucius and a poet.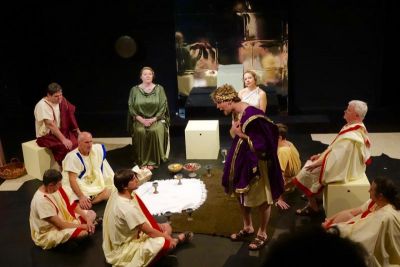 As a whole, lighting is well done, though a better blackout to obscure one particular dead body as the actor is pulled to his feet to leave the stage would ensure the atmosphere of that particular scene has better impact. At times, characters observe they have heard sounds offstage, such as voices approaching, but there is no such sound heard by the audience, which is a little disappointing given the overall quality of the production.
Sharon Malujlo's costume design is excellent and instantly evokes Roman times.
The final scene of this very fine production is swift, violent and superbly choreographed and although we have guessed from the beginning what the ending might be, it is still shocking and brutal.
Red Phoenix Theatre's production of Caligula is drama at its stunning best…with plenty of comic sting in its lethal tale.
Lesley Reed