The Campaign
By Campion Decent. Produced by Gavin Roach. Midsumma. Studio Theatre - Gasworks Arts Park, Albert Park. January 22 – February 1, 2020
The Campaign is a lively, informative, beautifully crafted and executed work of 'verbatim theatre.' It describes many significant moments of the 9 year the campaign (1988 to 1997) by the Tasmanian Gay Law Reform Group to have Homosexuality decriminalized in Tasmania. Therefore it is a must for those interested in Human and LGBTQI Rights.
We are reminded of the power of grass-roots activism.
It seems shockingly incongruous that Homosexuality was a crime, punishable with a 21 year prison sentence in Tasmania, at a time when Act-Up (Aids Coalition To Unleash Power) in Melbourne, was at its most potent. From the late 1980's to the early 1990's Act-Up activists were, inadvertently, making massive inroads into demystifying Homosexuality. This was partly due to the courage of individuals to 'out themselves' as HIV positive - desperate to stem the carnage the virus was causing. Silence = Death was the catch cry. There was no place for small-minded attitudes to sexuality in the face of so many young deaths.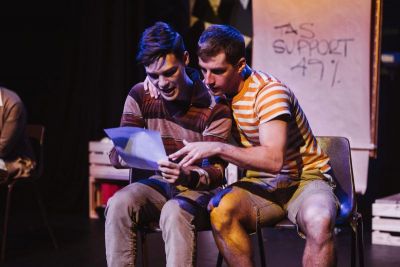 At this very time, outrageously, a homosexual sex act was a crime in Tasmania. It is worth noting that Homosexuality was decriminalised in 1975 in South Australia and 1980 in Victoria.
Amongst many other things, writer Campion Decent highlights the unpleasant awkwardness involved in an act of consenting sex being interrogated by police. This was apparently imperative to gaining evidence for what was then legally a criminal act.
All performers in The Campaign are excellent in their various roles portraying numerous individuals including politicians and public figures such as Christine Milne, Bob Browne and Michael Kirby. Under the effective clarifying direction of Peter Blackburn they work as a committed and supportive ensemble. With brisk energy they imbue the collective, individual stories with the atmosphere and optimism of the era. Two very energetic and personable young actors, Patrick Livesley and Ben Stuart, portray many of the youthful male roles, including that of Rodney Coomes (Patrick Livesley), with empathy and pathos.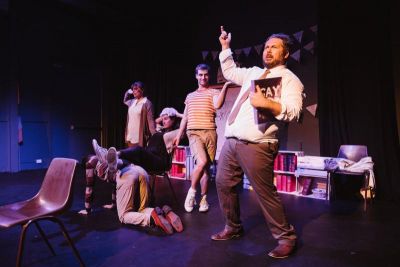 Ben Noble displays marvellous versatility as he conveys a number of characters, particularly those from the unrelentingly dogmatic, establishment.
Ally Fowler and Claire Sara work effectively to enlighten us of various female perspectives. Great team work.
An historically significant, intelligent, beautifully researched, entertaining and satisfying work.
Suzanne Sandow
Credits
Directed by Peter Blackburn
Set & Costume by Helen Rofe
Lighting by Shane Grant
Sound by Olivia McKenna
Stage Management by Lachlan Anderson
Performed by Ally Fowler, Patrick Livesey, Ben Noble, Claire Sara & Ben Stuart