Carmen
Music: Georges Bizet. Text: Henry Meilhac & Ludovic Halevy. Revival of 2016 Production. Direction: Constantine Costi from original direction by John Bell. Choreography: Amy Campbell from original choreography by Kelley Abbey. Opera Australia. Sydney Opera House. 11 January – 26 March, 2020.
OA's brilliant production of Carmen reminds us why opera remains popular. This show has it all: drama, music, passion, beauty, energy, and the ability to give us that buzz you can get only from live theatre. I was dazzled by the movement, dancing, pageantry, and blaze of colours.
A plot summary for those unfamiliar: soldier Don José pledges to marry his childhood sweetheart Micaëla. He then meets sultry free spirit Carmen, who tries to seduce him. Though he tries hard to resist Carmen, Don José eventually forgets all about Micaëla. He goes to prison for Carmen and on her whim abandons the army to become a smuggler. Don José gets jealous and violently possessive. Carmen dumps him for celebrity bullfighter and narcissist Escamillo (her taste in boyfriends leaves something to be desired). Micaëla carries a torch for Don José. Don José carries a knife for Carmen. Escamillo carries himelf with aplomb and fights a bull. It does not end well for Carmen (or the bull).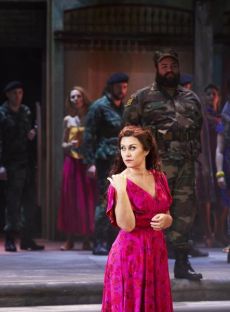 Director John Bell changes the time and place of the opera from 1820's Spain to modern day Cuba. It works. In some productions these changes can be a gimmick or a
rtsy indulgence. Not here. I always found the traditional setting of this opera made the characters look one dimensional and the whole thing look like a historic soap opera.
The modern setting made me see the show and characters in deeper, more rounded levels, because I could see it from the persepective of modern social mores and issues, not those of the past.
It's a tribute to the cast that their performances add nuance and dimension to their characters, fleshing them out from cardboard cut outs in a morality play to people we care about. The four leads: Veronica Simeoni (Carmen), Roberto Aronica (Don José), Łukasz Golinski (Escamillo), and Claudia Pavone (Micaëla) perform their roles as though they were born for them. The same must be said of the rest of the stellar cast, including the Chorus and cheeky energetic street kids.
The singing is absolutely beautiful, with all cast singing in a pure unadorned tone that brings out the emotion, passion, and power. Carmen's famous Habanera is not done as if she's some cheap siren out to destroy all men, but as joyful and fun, yet still full blooded and enticing. Don José's aria of devotion to Carmen comes over as believable and not as a "filler" written to keep the lead happy. Escamillo's Toreador's Song has such oomph it could make animal rights activists take up bullfighting. And Micaëla's Act 3 Prayer Aria is one of the most sublime examples of singing I've ever heard. And all of this backed by Christian Badea's conducting and the lively and sensual playing of the orchestra.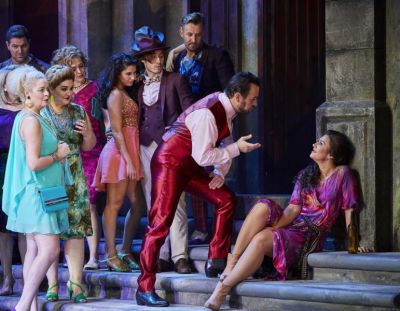 One aspect among many that I liked was Teresa Negroponte's costumes. Instead of one specific era we get a mix: the townsmen are in sharp 1950s suits. Carmen's girlfriends are in 60s dresses with beehive hair. The factory women are in styles from the 70s to 80s. The soldiers look like they're from the 90s and the street kids are in boardshorts and reverse baseball caps you'd find on the beach today. Kelley Abbey's choreography adds to the effective anachronism, with the dancing being a mix of classic Latin, break dancing, and hip hop.
Opera Australia has put away the floating LED screens this time and gone with a traditional set by Micheal Scott-Mitchell. This is a good sign that they're not going overboard with their new tech toys. Overseas theatre has given us many epic and grand props such as falling chandeliers, spinning barricades, and helicopters. In true Aussie style OA goes one step further and here gives us a Kombi Van, which cleverly morphs into a kiosk. We also get a large flat-bed truck that doubles as a parade float. The scene where it's used is so wildly colourful it's like Mardi Gras, but with much, much better taste.
If you've always wanted to see what opera is all about, I recommend seeing this one.
Peter Novakovich
Photographer: Keith Saunders