Caroline Nin's Hymn to Piaf
Act 8 of Twelve Acts of Cabaret. Cremorne Theatre, Brisbane. June 17, 2011.
Like the Pied Piper, this seductive QPAC cabaret season is attracting more people as it runs.
The focus this time was Paris-born cabaret artiste Caroline Nin.
Nin's gig covers the highlights and lowlights of Piaf's short life and career, and the songs we remember her by today (Piaf herself died in 1963.) As a bonus, Caroline Nin also includes several of Piaf's lesser known songs of which Piaf penned hundreds.
Tall, elegant and robustly healthy, Caroline Nin is the antithesis of short, gaunt and wild-eyed Piaf, but she poured into her own almost-jazz adaptations all the joy, passion and tragedy of Piaf's songs. She insists she is not a Piaf impressionist.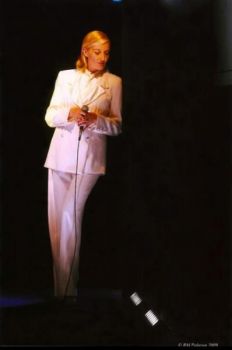 A revelation to me at least: Piaf sang Non, Je Ne Regrette Rien, the song by which she is identified today, very few times. It was composed by Charles Dumont, with lyrics by Michel Vaucaire at the request of her management when Piaf was at her lowest ebb in the grip of morphine dependency after the loss of yet another lover (married with children) boxer Marcel Cerdan. Her minders were trying to restore her career. Piaf died at only 48 years of age.
Accompanied by Greg Coffin on piano and double bassist Jonathan Zwartz, Caroline Nin carried us through this turbulent life with her and with Edith Piaf.
Another triomph de théâtre for QPAC!
Jay McKee
To keep up with the latest news and reviews at Stage Whispers, click here to like us on Facebook, or follow us on Twitter.