Cassie and the Lights
By Alex Howarth. Adelaide Fringe. Patch of Blue. Little Theatre, RCC,.14 February – 15 March 2020
When Cassie's mum leaves them, the teenager wants to care for her younger sisters, who believe their mum is just "on holiday" – but can she really be the right person to be "mum", or should she let foster parents create a new family?
Cassie (Alex Brain), who at 16 is the eldest remaining in the family, has taken on the role of mother for longer than just this latest disappearance. Her battle with her own aspirations, cruelly relegated by every demand from her unknowing kid sisters, is heart breaking, but the determination to take care of her family has us all hoping for the redemption she deserves.
Tin (Michaela Murphy) is just becoming aware of the adult world: her talk on stars is from a kid who knows she knows more than us; yet practicing her steps alone before the school dance with a boy is a child anxious to know the ways of the grown-ups. Murphy's enthusiasm and optimism is infectious.
Emily McGlynn's portrayal of the youngest sister Kit is astounding. Her fidgety innocence, blurted blunt truths and green frog hat make up an ideal eight-year-old. Her perfectly timed humour punches through the distress and despair.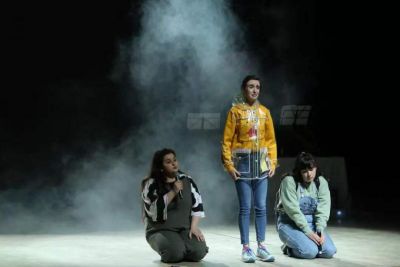 Alex Howarth has written, directed and designed the show and the tight work of the performers is phenomenal: there's no doubt that these are sisters who know each other's moods and ways. There's an informality in how the three talk to themselves and the audience outside of the performance yet without interrupting the mood or motion of the scene.
The set is a clever collection of suitcases and sheets that define no particular place, evoking how these lives are lived permanently in temporary status; this is punctuated with projections as scenes change – allowing us to catch our breath between emotions.
This is outstanding theatre from Patch of Blue, who created the multi-award winning We Live by the Sea (Adelaide Fringe 2017) and this will be honoured the same. It's written from interviews with children and carers and it's a desperately sad and funny story impeccably played out by the three women, landing every wrenching blow, then picking us up with each wonderful moment.
Mark Wickett