Castles
Adelaide Fringe Festival. House of Sand. Holden Street Theatres/The Studio. February 28th – March 17th, 2018
The production company House of Sand is the creative brainchild of siblings Eliza and Charles Sanders. Having already won several awards for their collaborations, their strong works have not gone unnoticed and with Castles it does not take long to see why.
Entering the performance space, the audience is met with a strong female body clad only in black underwear. It appears that she is tangled up in her own arms, fighting to free herself from the constraints of her own mind. Deathly silence is broken only by the sounds of frustration.
Without warning we are plunged into darkness. As the lights come up, Sanders is dressed in a pale blue jumpsuit and begins to sing, with the voice of an angel. She continues to dance and sing in an endless cycle of singular movements teamed with the spoken lyrics of modern day poet Nick Cave.
Eliza Sanders is a trained dancer, choreographer and visual artist. She showcases her various talents through the creation and design of this one-woman performance piece.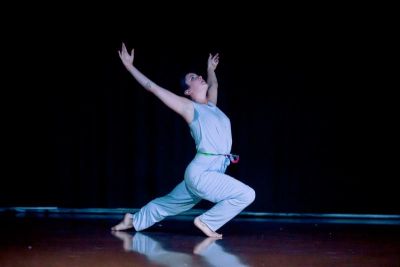 Sanders' beautiful and eclectic dance is captivating, each movement coinciding with a play on words. It is as though her train of thought is endless as she jumps, rolls and contorts. Her narrative does not make a lot of sense but we see the humour emanating from her wandering mind. I am not embarrassed to admit that I was clueless to what it all meant, but it was so well executed and fast-paced that I just sat back and enjoyed the ride.
Castles is produced by Charles Sanders and even he even admits that his sister's self-expression is in free-flowing form. Ambiguous from start to finish, we have entered an inexplicable dream of the performer's choosing.
Visually creative, Eliza Sanders' dance with the patchwork doll is glorious, until it, like the abstract narrative, unravels.
Kerry Cooper