Cat on a Hot Tin Roof
By Tennessee Williams. Co-production by Queensland Theatre Company & Black Swan State Theatre Company. Playhouse, QPAC. August 15 - September 3, 2011
Kate Cherry's is a superlative modern examination of the Tennessee Williams' 1955 Pulitzer Prize winner.
Space here limits me to revelations – issues that the astute direction and inspired performances attracted my attention:
The strong themes, mendacity and avarice, never loomed more clearly. Cherry's actors cut through the smoke-and-mirrors of life in Williamson's American Deep South where keeping up genteel appearances was so important.
Lack of love between Big Daddy and Big Mama is brilliantly portrayed by John Stanton and Carol Burns respectively. Both look on Brick (Tom O'Sullivan's conviction and passion are brilliant) as the rightful heir, yet their oblique comments at times led me to suspect that elder-son Gooper (Hugh Parker, making the most of his minor role) might have been a product of Big Papa's early infidelity?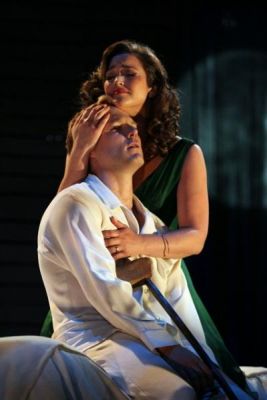 In the memorable 'truth' scenes between Brick and Big Daddy we are led to believe the relationship between Brick and Skipper was never more than the close friendship between two mates ─ reaching across the inter-beds space in hotel rooms to wish each other good-night is hardly homosexual contact. (But what of the deeper emotional effect that might have had on both Brick and Skipper in the fifties?)
Cheree Cassidy plays Maggie as gorgeous, divisive, seductive and determined. She prowls and berates Brick for his dependence on alcohol. It is hard to decide whether she or the fecund sister-in-law Mae (Caitlin Beresford-Ord paints her as acquisitively, deliciously unlikeable) is the more avaricious about the eventual outcome of the plantation after Big Daddy's death.
To enable the director to present Acts I and II (seven scenes!) as continuous action, Bruce McKinven designed an expansive bed-sitting room with lots of shuttered French doors opening out a long cool gallery overlooking the family plantation. David Murray's lighting evokes the cloying atmosphere, including the token savage storm that parallels the mood in the revelations and resolutions of the final act.
Daniel Murphy, Damon Lockwood, Paula Nazarski and two squads of four children complete the cast of thirteen.
This is a 'must-see' theatre event!
Jay McKee
Photographer: Rob McColl
To keep up with the latest news and reviews at Stage Whispers, click here to like us on Facebook, or follow us on Twitter.