Catch Me If You Can
Book by Terrance McNally. Lyrics by Marc Shaiman. Music by Scott Whittman and Marc Shaiman. Presented by Dramatic Productions (ACT). Gungahlin College Theatre. 27 May - 11 Jun 2016
With a charismatic lead who looks frighteningly like Leonardo di Caprio and a cast including both novices and experienced performers, Dramatic Productions' Catch Me If You Can is a lot of fun. Most readers will at least be aware of the film of the same name and the story of Frank Abagnale Jr, who between the ages of 16 and 21 was a confidence trickster who passed forged cheques to the tune of $2.5M and cadged countless free international air air flights before he was caught. This adaptation was a Tony Award-noninated Broadway musical, with music influenced by big band swing and 1960s blues.
This is a lively production which feels a little under-rehearsed, but the enthusiasm carries the audience over the rough edges, which represented lack of experience, time and budget more than lack of ability – if there were a few bung notes it's because of unfamiliarity with a complex score. All this is to be expected given an ambitious amateur production with many younger cast and it's more than made up for with sheer exuberance and great music. The dance numbers are high energy and slinky and the lighting and set captures the feel of a classic era sixties musical with retro colours and themes.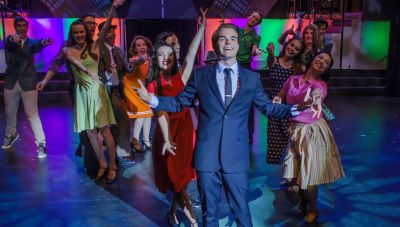 Alexander Clubb looks and sounds fantastic as Frank Abagnale Jr, with a mesmerising tenor voice which slips faultlessly into falsetto. Just at the moment his dance looks slightly awkward and uncomfortable, which could be first night nerves or inexperience. That should in no way be taken to reflect the talent of Mr Clubb, who is someone to watch. There's a touch of Sinatra in Jonathan Garland's performance as Frank Abagnale Sr, the father who passed on some con artist techniques to his son. Mr Clubb and Mr Garland's duet "The Pinstripes Are All That They See" is a toe-tapping swing gem. Janelle McMenamin (Paula Abagnale), Michael Miller (Roger Strong) and Debra Byrne (Carol Strong) are there to provide support to the less seasoned players, and of course they put in good solid performances. Gerard Ninnes Frank Jr's nemesis, Hanratty has a bass voice that provides an excellent counterpoint to Mr Clubb's lighter tones. Another highlight came when Josie Dunham (Brenda Strong) dominated the stage with her gutsy, heartfelt rendition of "Fly, Fly Away".
Fabulous music, great choreography, raw youthful talent and an extraordinary tale make this production a joy.
Cathy Bannister