Cats
Music: Andrew Lloyd Webber. Lyrics: Based on 'Old Possum's Book of Practical Cats' by T. S. Eliot. Additional material: Trevor Nunn & Richard Stilgoe. Young Australian Broadway Chorus (YABC). Director: Robert Coates. Choreographer: Jacqui Green. Musical Directors: Justin Jacobs (Orchestra Master) & Ned Wright-Smith (Conductor). Costume Designer: Sean Rentero. Set Designer: Dann Barber. Lighting Designer: Linda Hum. Sound Designer: Steve Cooke. National Theatre, Melbourne. January 17-25, 2020
If you think that the world's longest running dance musical has outrun its nine lives, think again! Director Robert Coates and his team have put together a reimagined production that is a sumptuous feast for the senses. Hats off to this production team. Personally I think it's the best production of Cats I've seen since it's Australian premiere in 1987.
The 90 strong onstage cast are members of the Young Australian Broadway Chorus and Stage School Australia, a vibrant performance community based in Melbourne for young ones aged 8 - 18. In this sensational makeover the oversized rubbish dump has been replaced by a crumbling Music Hall set in England during the 1930's, the era when T.S. Eliot penned his child friendly poems about cats. In this lavish setting, the band of very theatrical cats sing and dance as they gather together for the Jellicle Ball, supported by an impressive 15 piece orchestra under the capable baton of Ned Wright-Smith.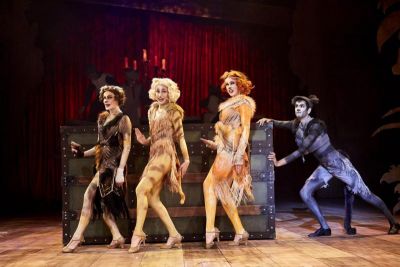 Sean Rentero's original costumes and make-up are exquisite and take us back to the 1930's glamour days. Dann Barber's authentic set, including an oversized grand piano, dressing room mirror and other items to be found in a derelict theatre are used to great effect. Steve Cooke's immersive sound design ensured that every word was heard clearly and the sound effects were perfectly timed. Linda Hum's lighting design transfixed the audience and was perfect for the jazz era setting. Choreographer Jacqui Green has done an immense job training such a large cast and their dance numbers (many steps fashioned after early 20th century dance styles) occasionally mimicking Bob Fosse are a riveting highlight of the show.
The audience had to hold themselves back from giving a standing ovation after the breathtaking Jellicle Ball in Act One! Suzannah Bourke (Grizabella) and Hannah Simos-Garner's (Jemima) stunning performance of "Memory" received much audience adulation. The formidable principal cast equally dazzled the audience with their on point characterisations, superb vocals and energetic dancing. There are too many highlights to mention!
The cast includes: Declan Ahern (Mr Mistoffelees/Quaxo), Matthew Azzopardi (Alonzo/Rumpus Cat), Tim Bland (Gus/Growltiger), Matthew Casamento (Mungojerrie), Harrison Dart (Old Deuteronomy), Caitlyn De Kuyper (Bombalurina), Nathan Derix-Brown (Macavity), Sienna Embrey (Jellylorum/Griddlebone), Ben Gonsalvez (Munkustrap), Adeline Hunter (Rumpleteazer), Aimee Jones (Demeter), James Keam (Rum Tum Tugger), Caitlin McNamara (Victoria), Kristen Robertson (Jennyanydots), Patrick Rogers (Skimbleshanks) and Tristan Sicari (Bustopher Jones).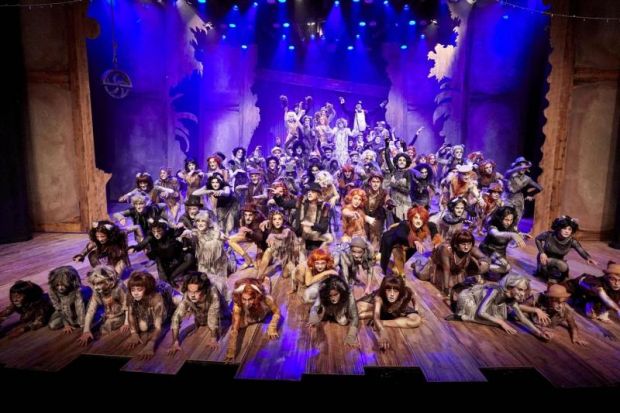 I would like to highly commend the ensemble and kitten chorus (who were very cute!) on their superb performances, attention to detail and for staying in character at all times. I kept thinking throughout the show 'Andrew Lloyd Webber needs to see this!'. Finally, a standing ovation (that had been held in for the entire show) ended a wonderful night that will remain etched fondly in my "Memory".
Jonathan Cox
Photos: Kit Haselden Photography