Charles Dickens' A Christmas Carol
Brisbane Arts Theatre (Qld). Nov 27 – Dec 18, 2010
I was looking forward to this premiere, a musical reworking of Dickens' A Christmas Carol. With book by Tony Millett and Sally Daly, music and lyrics by Shane and Sally Daly, it is a big cast, glamorous extravaganza aimed mainly at adults. (In parallel BAT is presenting matinee seasons of The Life & Adventures of Santa Claus for families).
A Christmas Carolis an aural and visual delight (gorgeous costumes by Robyn Edwards). It opens with what seems to be surround-sound until the carollers arrive from each auditorium entrance. The chorus work of this show is its strength – great balance of voices – and what joy to discover a host of new carols in the Victorian style!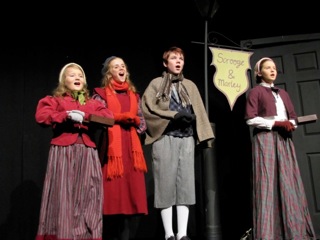 It is Scrooge's show and Richard Murphy does him justice in the early scenes but later is left hovering on the fringes of the action. Others deserving of kudos are: Karla Deane (Ghost of Christmas Past - she can haunt me any time); Scott Hossack (Ghost of Christmas Present) whose rich baritone was a real asset to the show; and the imposing mute Ghost of Christmas Yet to Come (another costume design triumph), Tim Gawne, whom we never hear except in his other roles (almost everyone plays multiple parts in this production).
Struggling to remain true to the original, the plot became episodic and lost pace. Despite that, the warmth and energy of the cast captured the positive, hopeful message at the heart of the Dickens story.
Patrons seeking a warm, fuzzy pre-Christmas entertainment will love it. The company's sparkle is infectious.
Jay McKee