Charley's Aunt
By Brandon Thomas. Genesian Theatre Company. January 12 – February 23, 2013.
Young sweethearts courting without a chaperone? Unthinkable!
Well, we're talking 1892, when British farce Charley's Aunt had its initial huge London success. 120 years later the comedy really does show its age at times but most members of the packed Sunday afternoon audience at Sydney's Genesian Theatre had an absolute ball.
Two young men, students at Oxford, set up a rendezvous with the girls of their dreams - object - twin marriage proposals. All threatens to go horribly off the rails when the wealthy aunt of the title, Donna Lucia D'Alvadorez, fails to materialize, but a fellow student, frocked up for some amateur dramatics, is persuaded, reluctantly, to step into the breech as 'Charley's Aunt - from Brazil - where the nuts come from.'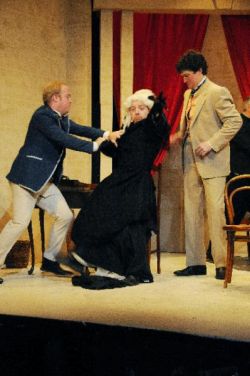 It's this farcical comic drag performance, delightfully and impishly realised by Nicholas Pond in this production, which still drives plenty of hilarity. Mistaken identity, particularly when two aging, fortune-hunting suitors are totally duped, then the fun and games with the appearance of the real aunt (played with knowing poise, assurance and a sparkle in the eye by Lynn Turnbull Rose), are spirited and entertaining.
Carlin Hurdis (Jack) and Thomas Greader (Charley) play the ardent young men well, establishing their contrasting dispositions, while Justine Kacir (Kitty) and Kate Parker-Frost (Amy), as their love interests, knowingly and flirtatiously twist them around their little fingers convincingly. They make the romantic plot work, though in the scheme of things their roles are basically the set-up for the comic drag farce that the play really revolves around.
Nicholas Pond (Lord Fancourt Babberley) is an agile, natural clown both in and out of drag. His performance is full of nuance and physicality, and his skill at the piano allows a highly appropriate, entertaining music hall style interlude between acts two and three.
As the man-servant Brasset, Stephen Holland breaks the 'fourth wall' to engage in wry, knowing fashion with the audience. David Stewart Hunter plays Sir Francis Chesney with appropriate military bearing, while Timothy Bennett's boorish Stephen Spettigue, guardian to the two girls, is so pompous and self-important that duping him utterly delights as his just desserts.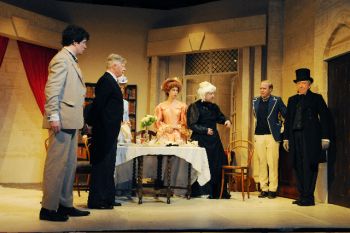 A late entry is Donna Lucia's companion Ela Delahay, Babberley's love interest. Lilianna Komljenovic plays her convincingly as far less frivolous than the other two young women.
Occasionally the stagecraft of some blocking needs attention, while details including, but not restricted to, the grooming of tousled hair or the fit of a waistcoat warrant attention. On the whole, however, the entertainment has the sort of well-paced, tongue-in-cheek interpretation which the piece requires to gloss over any tiredness in the writing, well served by a cheeky, charismatic central performance. Shane Bates has directed a bright, energetic production of this old favourite.
Neil Litchfield
More Community Thaetre
Community Theatre Seasons 2013