The Cherry Orchard
By Anton Chekhov. Upstairs Theatre, Belvoir St Theatre. May 29 – June 27, 2021
Finding new life in the classics, our directors often throw the switch to vaudeville; as though we Australians can't abide too much psychological depth or anguish.
Chekhov argued this his last play was a comedy; his first director, Stanislavski, thought it a tragedy. Admittedly Chekhov was close to death – and it is hard to pick the laughs! They're in the ironies and sad humour of this household of fallible Russian characters, individuals full of yearning and anxieties about what to do next.
Eamon Flack's entertaining production takes a different path to this melancholy, choosing instead buffoonery and a languid Aussie tempo.
Ranevskaya returns to her debt-ridden ancestral home and beloved orchard, greeted by her incapable brother Gaev, her daughters, Varya and the lovelorn Anya (Kirsty Marillier), and a host of eccentrics (like Lucia Mastrantone as the madly theatrical governess, and Priscilla Doueihy as the perennial – originally male – student) and other clumsy staff and hangers-on (including Peter Carroll relishing the ancient servant Firs).
It's a fresh, very multicultural cast, irrelevant to character mostly but often adding new dimensions. The bullish realty man Lopahkin, for example, buys the orchard but comes from a family once Russian serfs; as played strongly by African Australian Mandela Mathia, he also suggests the weight and sympathy of slavery. Indian Australian Nadia Kammallaweera is also well cast as the frustrated housekeeper Varya.
Pamela Rabe is enigmatic as Ranevskaya, if finally made uncredible by an end which is strangely unmoving; while Keith Robinson's Gaev in a wheelchair is a sentimental delight.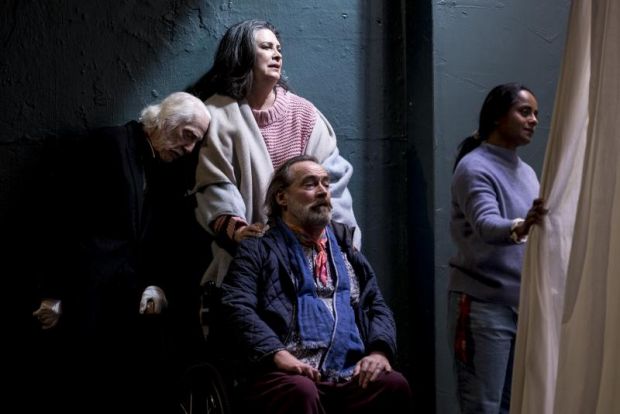 Chekhov gives each character their great and petty crosses to bear, in what should be a moving mosaic of encounters, capturing the full malaise of pre-revolutionary Russia.
Here these moments are sometimes underplayed and undervoiced, lacking focus amongst the high jinx across Romainie Harpter's broad featureless stage. For "relevance", the setting and dress is modern, and the cast spirited and sometimes funny. Some of the updated language was more banal than whatever old Chekhov came up with.
Martin Portus
Photographer: Brett Boardman