CHESS
Music by Benny Andersson and Bjorn Ulvaeus; Lyrics by Tim Rice. The Production Company. State Theatre, Melbourne until August 26, 2012.
When word got out in 1981 that Tim Rice, after splitting with Andrew Lloyd Webber, was planning a musical with The ABBA boys as his composer, there was scepticism and even some ridicule:- "A Queen, a Bishop and a Knight walked into a record store and said "Have you got any ABBA songs?" Of course, those of us who were avid ABBA fans, who knew the musical sophistication of the counterpoint in such songs as 'The Name of the Game', couldn't wait. The first step was a stunning concept album with Murray Head and Elaine Paige in 1984 (I have it to this day…a great cover with two large black vinyl plates with holes in the middle….they were called records! Aah, the eighties), which produced two hit singles.
The road to production was as long and complex as any chess game. The West End production initially had the great Michael Bennett at the directing helm, but he withdrew before rehearsals on finding out he was terminally ill. The equally great, but oh so different, Trevor Nunn took the helm and the show had a highly successful three year West End run. But a musical about an elite intellectual game set against the politics of the cold war was never going to be an easy sell across the pond. The book was rewritten to be more jingoistic for Americans, with greater anti-communist overtones, and far more exposition in an over weighted plot. The role of Florence was made an American; The Big Hit, 'One Night in Bangkok' was dropped completely (Bad move) and the brilliant 'Pity The Child' was moved to the second act (Good move). Still, the Broadway show closed after just 68 performances. Perhaps the whole concept of love, integrity and politics was just too highbrow for an audience brought up on Checkers. The original Australian production saw the producer die of a heart attack during rehearsals, with only a minute amount of the budget raised. It was a nightmare, though audiences still warmed to the fabulous score. But the Cold War was no longer as chilly, and communism was not as Red, and it seemed the show had lost its political power.
And so to the Production Company here in Melbourne in 2012. Their version is, quite simply, sensational. Gale Edwards is surely the finest director of Music Theatre we have ever had. Her vision sees a much cleaner second act with a clear plot throughline. Shaun Gurton's set is stunning, and Krystal Giddings' costumes are magnificent. Tony Bartuccio's choreography is as fresh and impressive stylistically as it was 25 years ago. Sound and lighting are both brilliant and the orchestra under David Piper is superb throughout. This is simply one of the classiest productions ever seen on an Australian Stage; and with one of the finest casts anywhere.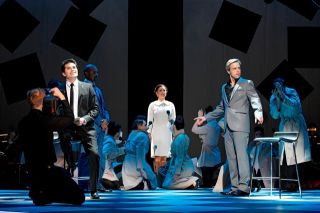 Of the principals, Silvie Paladino shows us why that incredible voice has made her a Bona-Fide Star both here and in London's West End. 'I Know Him So Well' and 'Heaven Help My Heart' were sheer magic. In the plot the battle is between two Chess masters Anatoly (Simon Gleeson) and Freddie (Martin Crewes), and the battle is between these two actors on stage. Crewes' Freddie is marvellous – 50% Rock Star/50% Tom Cruise…or perhaps 100% both! It's an inspired move, the black leather jacket, white Tee shirt and dark glasses. Even the walk is Cruise. He wins the acting honours. Simon Gleeson's voice is so glorious that it takes us to another place, especially during 'Anthem', which closes the First Act. There were many tears in the audience, some from men, so interval honours to Gleeson. But in the Second Act Crewes delivered a version of 'Pity The Child' so fraught with pain, passion and anger that it was heart-stopping. It was wonderful theatre in every respect. Michael Falzon has enough charisma as The Arbiter to fill the furthest corner of the Gods; a great stage presence, but he needs to be careful not to cross the line between Music Theatre and Las Vegas Cabaret. Mark Dickinson (Molokov) Bert Labonte (Walter) and Alinta Chidzey (Svetlana) were all excellent. It's hard to imagine better casting. Finally, but not last, the ensemble, both singers and dancers, were flawless throughout.
We need to be thankful for Jeanne Pratt's commitment to The Production Company. How else would we see a production worthy of a five year run on Broadway? Which brings me to my only negative; the run is too short. Everyone who gave the show a standing ovation last night would see it more than once, given the chance:- and I'd be first in the queue.
Coral Drouyn
Images (from top) Martin Crewes and Simon Gleeson; Silvie Paladino and Simon Gleeson; Martin Crewes, Alinta Chidzey and Simon Gleeson; One Night in Bangkok and Martin Crewes with reporters. Photographer: Jeff Busby.