Chess the Musical
By Benny Andersson, Björn Ulvaeus and Tim Rice. Storyboard Entertainment. Regent Theatre, Melbourne, 22 to 24 April, 2021; Her Majesty's Theatre, Adelaide, 27 to 29 May; Perth Concert Hall, 3 to 5 June; QPAC, Brisbane, 8 to 10 June.
If you're up for an evening of indulging in 1980's musical and fashion nostalgia, this is the show for you. The songs, with music by Benny Andersson and Björn Ulvaeus, and lyrics by Tim Rice, have that unmistakeable ABBA sound and the costumes are authentic without being cheesy.
The casting is commendable, particularly proud Gumbaynggirr and Turkish woman Brittanie Shipway as the Arbiter, a role usually played by a man. Shipway brings authority and style to the role, matched perfectly by her '80s power suit. Natalie Bassingwaighte is made for the role of Florence Vassy, nailing the look and sound. Rob Mills has plenty of pizzazz as the commercially-motivated Walter de Courcey, who represents the corporatisation of sport as entertainment in the 1980s. Eddie Muliaumaseli'i as Alexander Molokov and Alexander Lewis as Anatoly Sergievsky add operatic depth, although Lewis and Bassingwaighte lacked chemistry.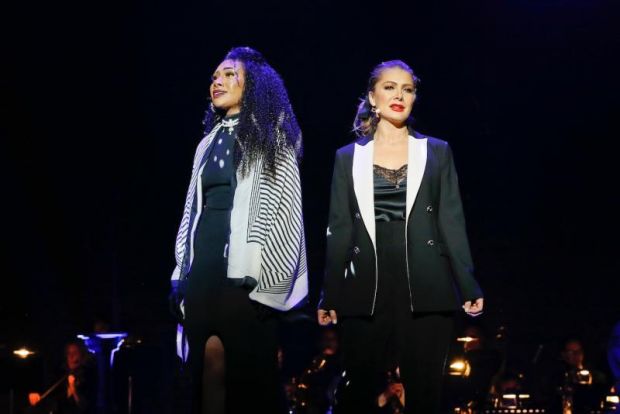 Dann Barber's striking set and costumes are a highlight. The stage is filled with a life-sized chess board on which the characters become players themselves. It's surrounded by the 26-piece orchestra, a choir, the ensemble, with only the theatre's bare brick wall as a backdrop. It enhances the storytelling without distracting from it. The costumes are true to the decade, with Natalie Bassingthwaighte rocking a black and gold jumpsuit, shoulder pads and hair teased to the heavens. Paulini is equally stunning with Whitney Houston-esque glamour.
Freya List's sleek choreography is also on-point, with highly entertaining, tongue-in-cheek movements adding comedic value to the show. The ensemble danced and sang so well they stole the show at times. The defection scene really got the audience going.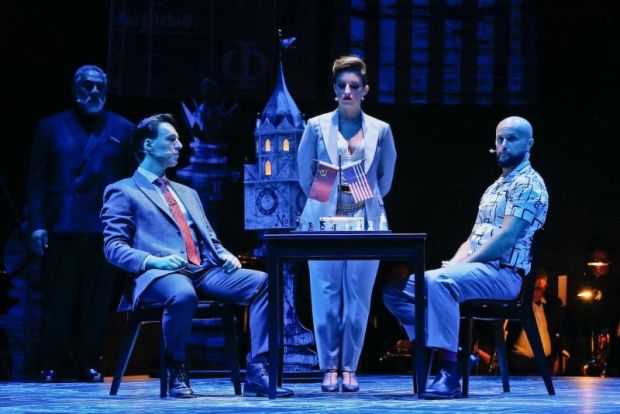 Chess has never been popular among critics and it's easy to see why. Although producer Adrian Storey wisely wanted to focus on the show's strengths, its music and lyrics, director David Piper didn't quite succeed at creating the dramatic tension the original book lacks. It was often difficult to hear the leads over the orchestra and choir, which perhaps detracted from the conveyance of the narrative.
While not wholly satisfying, Chess the Musical brings some of the joys of musical theatre back to live performance-starved pandemic audiences.
Sophia Dickinson
Images (from top): Rob Mills and ensemble; Paulini and Natalie Bassingthwaighte; Alex Lewis, Brittanie Shipway and Mark Furze; and Cast of Chess. Photographer: Jeff Busby